Bangladesh Open University's HSC Admission Circular of 2021-22 session has been published recently on 07/06/2021. BOU is open to everyone. People of all ages will be able to study at this university. Regular and irregular batches are available here. So anyone can easily take admission to BOU University and build up a career. Here I am going to talking about the BOU HSC admission circular for the academic year 2021-22. So if you are so much eager to obtain this degree then it will be a great chance for you. Here is detailed information about the admission, read the do as it is written here.
BOU HSC Admission Circular 2021-22
After a long time, BOU has published the HSC admission circular on their own website. As soon as I see the circular, I have uploaded it for you on this site. You will get here the admission starting and ending date, admissions and other fees, necessary information, and the other qualification you need to admit yourself to this course. So keep your focus on the image and collect information.

BOU HSC Admission requirements for apply: 
The candidate must have passed SSC/equivalent exam.
BOU HSC Admission Detailed Time Plan
Online Application submission: 03 June 2021 to 31 August 2021
Bangladesh Open University HSC Admission Fee
Online Application Fees: 100 BDT
Registration Fees: 150 BDT
Course Fees: (617*6) 3702 BDT
ICT Practical Fees: 131 BDT
Academic Calendar fees: 50 BDT
Digital Student ID Card Fees: 200 BDT
Exam Fee: (53*6) 318 BDT
1st-year Transcript Fees: 70 BDT
Total ( Minimum): 4721 TK
BOU HSC Admission Circular Notice Download
Recently, Bangladesh Open University has been  HSC admission circular notice, If you are interested in studying in BOU, Read this notice carefully before applying. Be careful when you paid all the fees.
BOU HSC Admission Circular 2021-22
Read Also: Bangladesh Open University BA/BSS Result
BOU HSC Admission Circular Extended Date 2021-22
Bangladesh Open University has extended the date of HSC admission for some reason. On 01/09/2021 BOU has published a notice on their website notifying a notice about extending the HSC admission date. Here is the image published by the BOU. In the previous circular, The application deadline was 31 August 2021 and in this latest notification, the deadline was extended to 31/09/2021.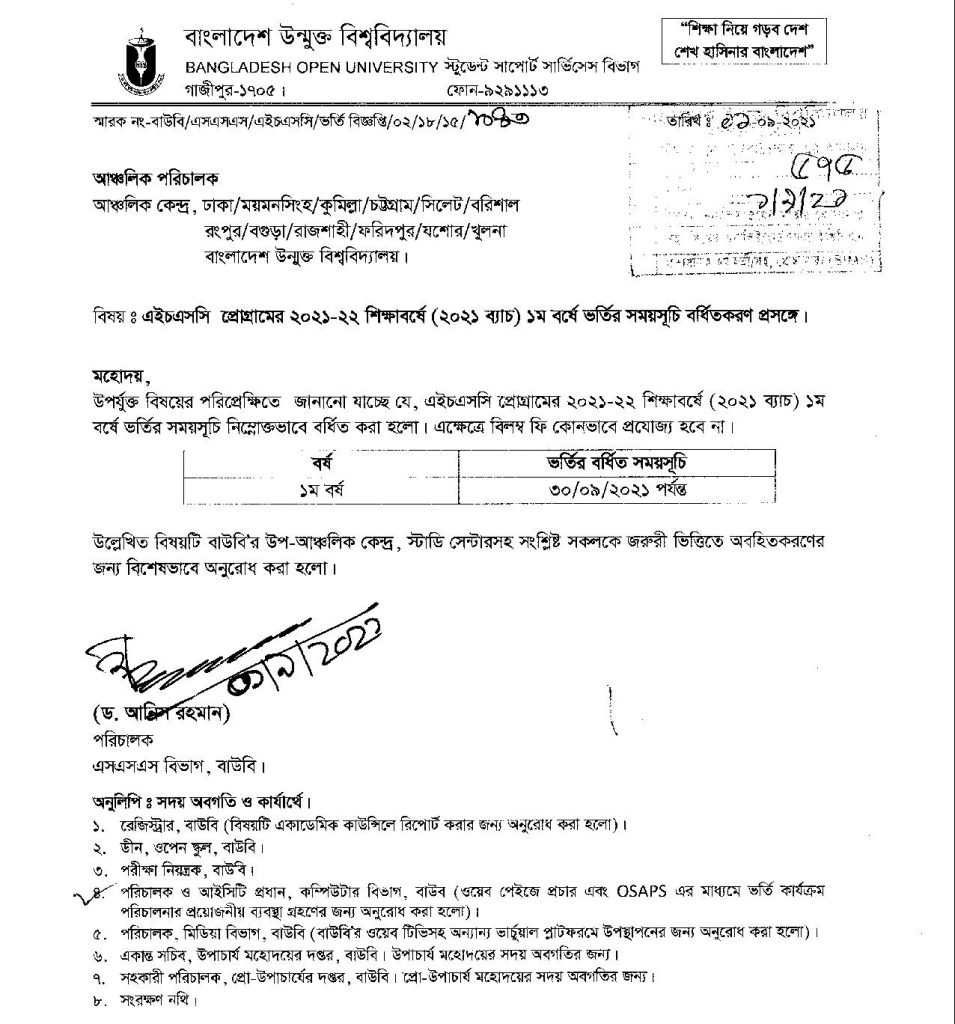 How to apply for BOU HSC Admission 2021-22
How to Apply Online
First of all, go to the BOU's website: http://osaps.bou.edu.bd/
Those Students who are interested to apply for the BOU's HSC admission, must go to this website and fill up all information by their personal information. Then he will get an SMS with a Login ID and Password.
Bangladesh Open University Contact Number
Please note down the details of the Bangladesh Open University's contact number and email.
OSAPS Helpline
Available Time: 9.0 am to 1.00 pm
01635832845, 01907451614, 01705897988
Available Time: 2.00 pm to 6.00 pm
01635832846, 01907451612, 01705897917
E-mail: [email protected]
HSC 1st Year 2020-2021 Admission Rescheduled Timetable
Maybe you that the BOU authority has rescheduled the HSC 1st year admission timetable. The BOU authority has published the circular on 19/01/2021. In the circular, the rescheduled date of HSC admission is 18/01/2021 to 11/02/2021. Here I have given an image of the rescheduled circular as well as the PDF file. Just read the whole article and collect all the information that you need.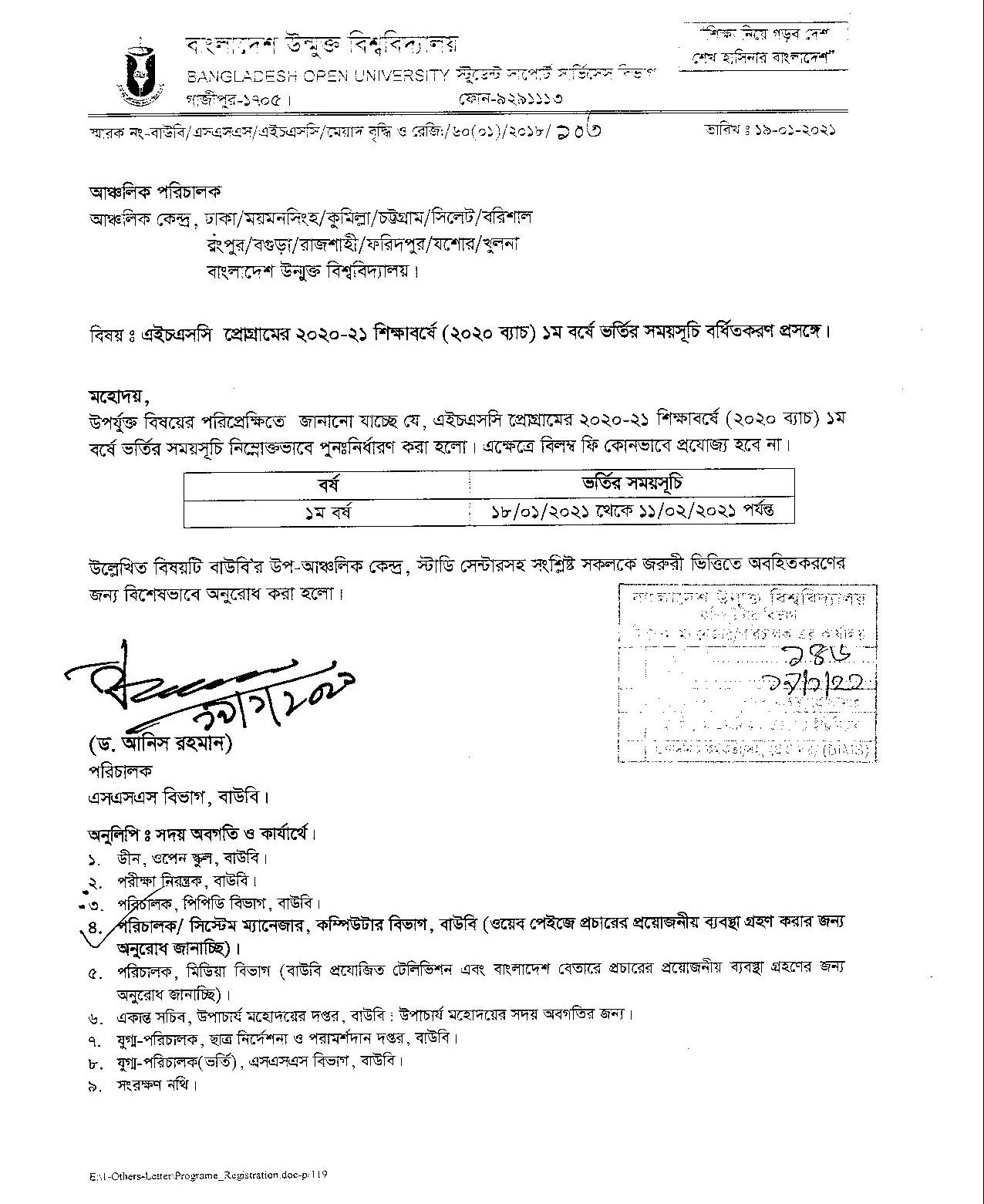 Here is the PDF file of the rescheduled circular. Just click here. HSC Rescheduled Circular 2020-21
In this post, we have tried to provide all the information on the Bangladesh Open University's HSC admission. If you think, this article is helpful for you, comment on your quote in the comment section below.