BOU B.Ed admission circular Season 2021-22 has been published recently. BOU's B.Ed admission process will start on 20 September 2022. The applicant will have to download and fill up the admission form and then submit it.  Read this full article before applying for BOU's B.Ed admission.
N.B: B.Ed admission circular under BOU has not been published in 2022. Once it is published, you will get it on this site immediately. The current circular of this site is dated 2022.
BOU BOU B.Ed Admission Circular 2021-22
In the 2022 ‍sessions, Bangladesh Open University's B.Ed admission will be completed within March 2021. Students can apply for admission from 11 January 2022 to 28 February 2022.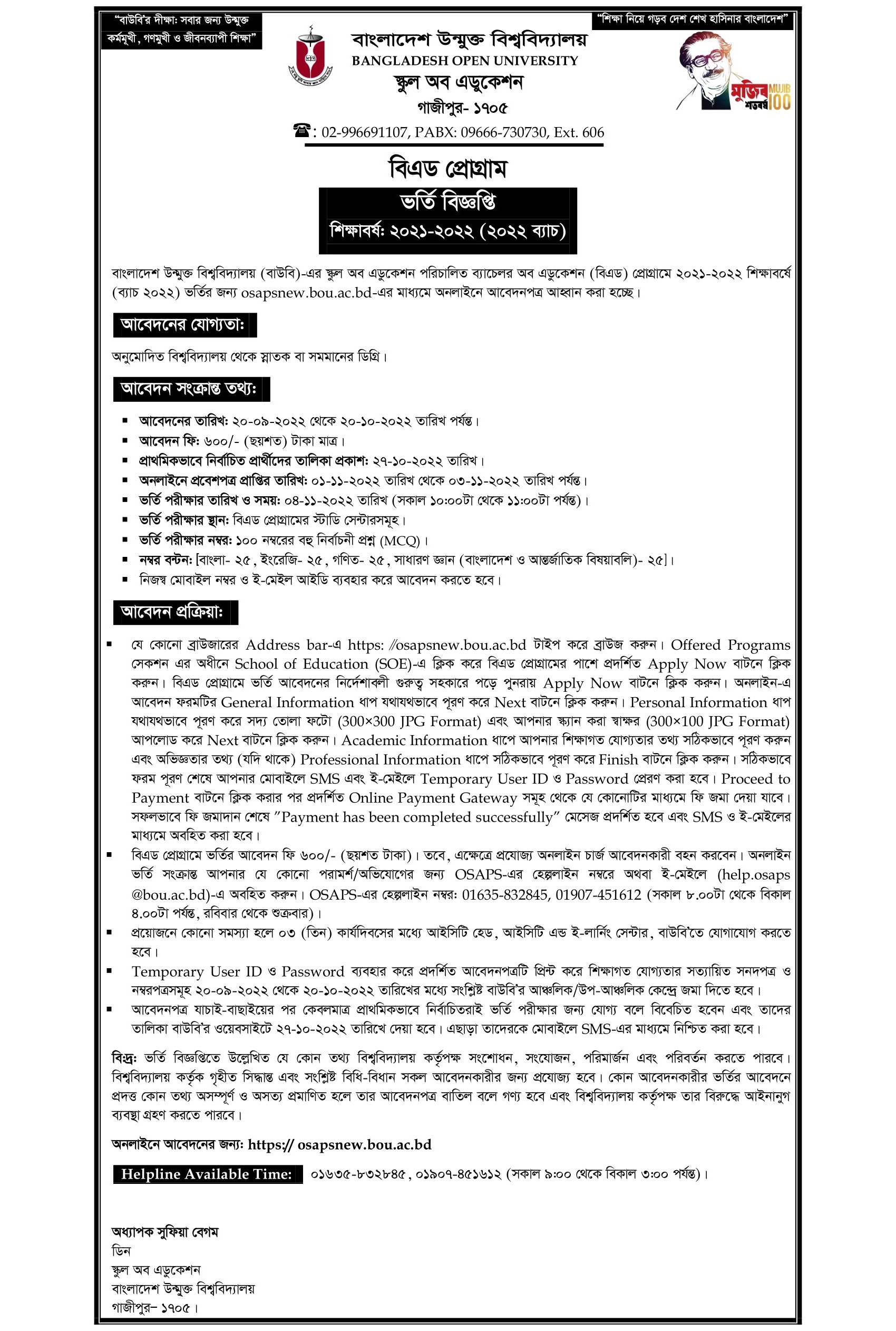 BOU B.Ed Admission requirements For Apply
The candidate must have passed an honors or equivalent degree from an accredited university.
BOU BEd Admission 2022 Detailed Time Plan
Application Submission: 20 September 2022 to 20 October 2022.
the primary selected list: 27 October 2022.
Admit card available Date: 01 November to 03 November 2022.
Admission Test Date & Time: 04 November 2022 ( 10:00 AM to 11:00 AM).
BOU B.Ed Admission Circular Notice Download
Bangladesh Open University published its B. Ed Admission circular notice. If you are interested in studying at BOU, Read this notice carefully before applying for the BOU's B.Ed program.
Read Also: Bangladesh Open University BA/BSS Result
How to apply for BOU B.Ed Admission 2021-22
Three-year term B.Ed Admission of Bangladesh Open University will have to apply Online for the B.Ed program season 2021-22 from 20 September 2022 to 20 October 2022. I have given here an image to get a clear conception. Follow the instruction below for applying for the Bachelor of Education program. 
How to Apply Online For BOU B.Ed Admission 2022
Apply online for the BOU B.Ed Admission circular by simply following the instructions given below:
You need a 300*100 Size signature and a 300*300 Size Photo for applying.
First of all, go to the BOU website: osaps.bou.edu.bd.
Then fill up all your info, and you will get an SMS on your phone with your Username and Password.
Login to your account and go to the payment option.
After successful payment, you will get a confirmation SMS.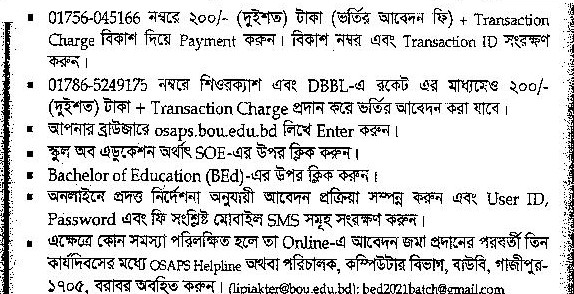 How to Download Admit Card Of Bou B.Ed Admission
B.ed admission 2022 Bangladesh admit card download process is here; you can do it independently.
Admit cards will be available from 11/03/2021 to 15/03/2021
Type osaps.bou.edu.bd in the browser and press Enter.
Then click on Login and Submit your username and password.
Finally, download your admit card.
Post-admission activities in B.Ed Program 2022
For those who have sent an application for admission to the B.Ed program under BOU and have already been selected for the program, this article is for them. I want to inform you that BOU has already published a notice on their website on 06/09/2021 saying about the Post-admission activities in the B.Ed program for the students of academic 2021-22.
If you are one of them, then read the whole article. I have attached here an image of the circular. Here will be informed about primary list publishing, acquiring the admit card of the admission test, date & time of the admission test.
BOU Contract Info
Contact for Bangladesh Open University's B.Ed admission circular:
Professor Sufia Begum
Dean, School of Education
Bangladesh Open University
Gazipur- 1705
Phone: 02-9291107
I am sure you have benefited from this article. So please keep your eyes on our website to know relevant information.