Bangladesh Open University's  BA/BSS exam result has been published, recently. If you are an examinee of 2019, you will get BOU's BA/BSS result. Now, you can see your BA/BSS exam result online or SMS. In this article, I will write about how to see the BOU's BA/BSS exam result in Online and SMS both methods. Read this article carefully and follow my step.
BOU BA/BSS Result Published
The examination of the honors program of Bangladesh Open University was held in 2018. BOU has published sociology and political science subjects on so many semester-based 2nd, 4th, 6th 8th, and final results on 5th November 2019. Now, get your BOU's BA/BSS result by following this method given below.
Check Bangladesh Open University BA/BSS Exam Result
The results of those who participated in the exam in 2018. About 5,000 students participated in the exam. Follow our step to show your result using online and SMS both methods. For showing results, you must need your student ID. Let's see below.
How to Check BA/BSS Exam Result By Online
First of all, Go to the BOU website: https://www.bou.ac.bd/result.php
Then Select your Program.
Select BA/BSS program.
You will see a box below and then write your Student ID here.
Finally, Click on "View Result"
By submitting your Student ID and clicking on "View Result," you will see your Result. The online method is very easy to check the result and it's free for everyone.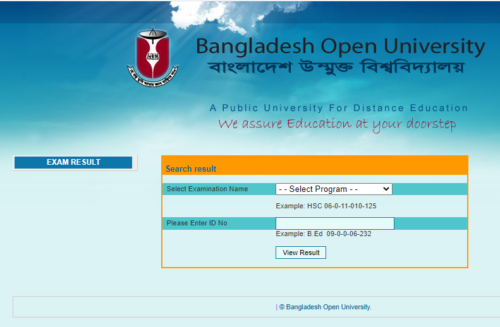 How to Check BA/BSS Exam Result By SMS
You can check your Bangladesh Open University's BA/BSS exam result by SMS. You need a phone with a sim card for any operator to show results. Follow the step below.
First of all, go to the massage option.
Type BOU.
After space, type your Student ID.
Send the message to 2777.
BOU <Space> Student ID. For example BOU 01565658954
After sending above this message successfully, you will receive an SMS with your result.
If you have any questions about BOU's BA/BSS result, don't hesitate to ask anything to us. Write your opinion in the comment box below.