BOU CSE admission circular has already been published on 28/11/2021. BOU has launched the Computer Engineering ‍and Technology four years honors program. Students of Science background can apply for the following program. This article will write about all the Bangladesh Open University's CSE admission process information.
BOU CSE Admission Circular 2022
B.Sc in Computer Science & Engineering is a four-year course divided into 8 semesters. Bangladesh Open University has enrolled students in this course only in January once a year. So if you are interested to get admitted to the course then keep reading the following information carefully and meet all the requirements for admission.
BOU CSE Admission Requirements For Apply
Requirements for BOU's CSE admission circular are given here:
The candidate must have to pass SSC and HSC examinations.
Must have a minimum GPA in Physics / Higher Mathematics with 3.00 or a second division on each SSC and HSC separately.
The candidate passed with Physics/ Higher Mathematics with a GPA of 3.00 in HSC or candidates from Diploma under Technical board subject to GPA 2.5 or second class will be able.
Candidates who passed HSC in Science and passed Diploma in CSE from BOU's institute will admit this course.
BOU CSE Admission Detailed Time Plan
Online Application submission: 29/11/2021 to 30/12/2021
Selected applicant list: 05/01/2022
Admit Card Available: 11/01/2022 to 13/01/2022
Written Exam: 14/01/2022
Result of Written Exam: 24/01/2022
Orientation: 13/03/2022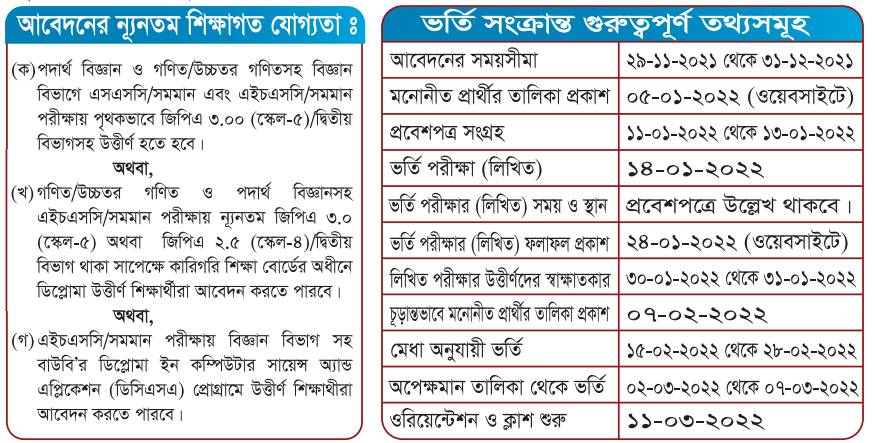 BOU CSE Admission Circular Notice Download
Bangladesh Open University published their 4 years CSE admission circular notice; read it carefully before applying.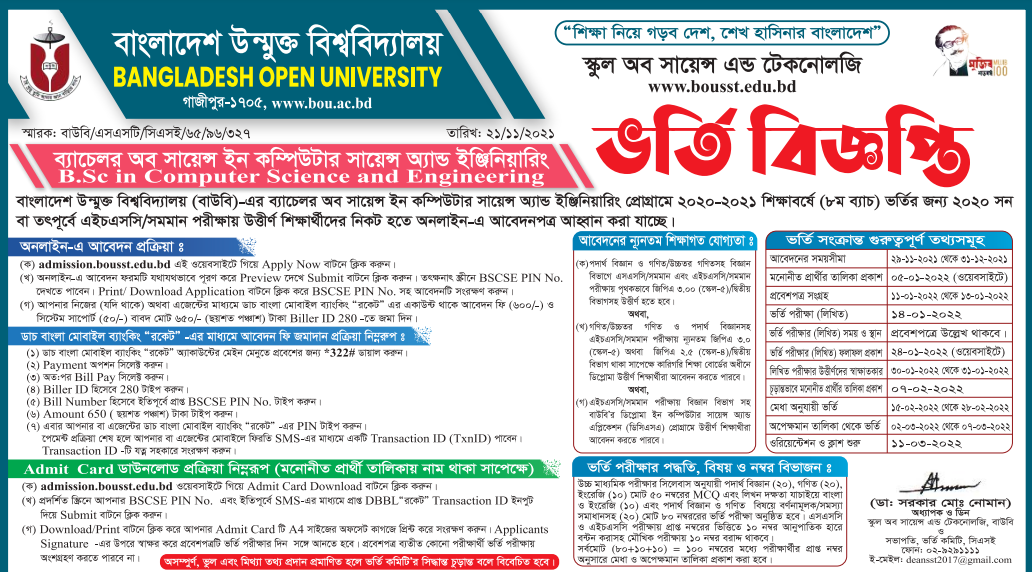 Read Also: Bangladesh Open University BBA Admission Circular
How to Apply for BOU CSE Admission 2020-21
Students of Science groups can apply for this CSE program if he/they can fulfill the requirements for applying to follow the step below. 
How to Apply Online
First of all, Go to the website: admission.bousst.edu.bd and click on "Apply Now."
Please fill out the online form correctly and Submit it after showing the preview.
And you will show "BSCSE PIN No" save or print this.
Then pay your bill with your Dach Bangla Account.

Admit Card Download Process
Visit admission.bousst.edu.bd and click on Admit Card Download
Provide your BSCSE PIN No and DBBL, Rocket Transaction ID, and click Submit Button.
Download or Print the admit card in A4 off-page paper and save it.
BOU CSE Admission Test Syllabus
This is the BOU CSE admission test syllabus. If you are interested in getting admitted to the CSE program under the BOU, this article is for you. Here is the detailed information you need for CSE admission. There are three steps for admission; Preliminary, Written, and finally, Viva.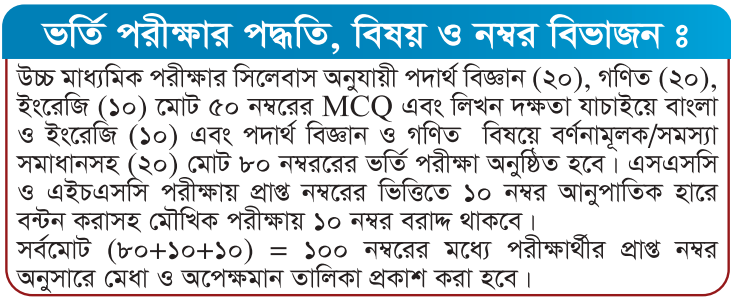 BOU CSE Admission 2020-21
Bangladesh Open University has already published the CSE admission circular after long-time formalities and admission tests. According to the merit list, students have to admit from 7-24 March 2022
(9 AM to 4.30 PM) and 28-30 March 2022 from 9:00 AM to 4:30 PM for the waiting list candidates.
The Admission formalities will be held from 28-30 March 2022 on the basis of vacancies of seats from
the waiting list of positions 1 to 11 for the Regional Center, Dhaka, and positions 1 to 10 for DUET, Gazipur.
Information regarding vacancies will be communicated to the applicants.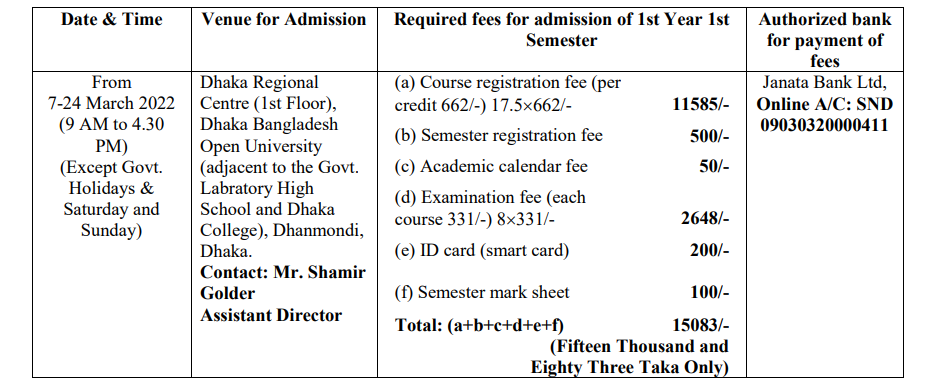 Required Documents For Admission
Original Certificates, Mark Sheets/Transcripts (SSC & HSC), and National Identity Card/Birth Certificate (if
any), admit card
Freedom fighters/dependents of freedom fighters/employees of BOU/Diploma holders from BOU must
produce original certificate of proof
Bank receipt of required fees for admission into the 1st Year 1st semester of the said program;
3 copies of the attested passport-size photograph.
List of Finally Selected Applicants For Admission
The following applicants have been finally selected for admission (according to merit and quota) in the Bachelor of Science in Computer Science and Engineering program of the School of Science and Technology, Bangladesh Open University. Selected applicants are advised to complete the admission formalities at Regional Center, Dhaka (Adjacent to the Gov. Laboratory School) as per the schedule mentioned in the notice from 7 – 24 March 2022 for merit list only and from 28 – 30 March 2022 for the waiting list.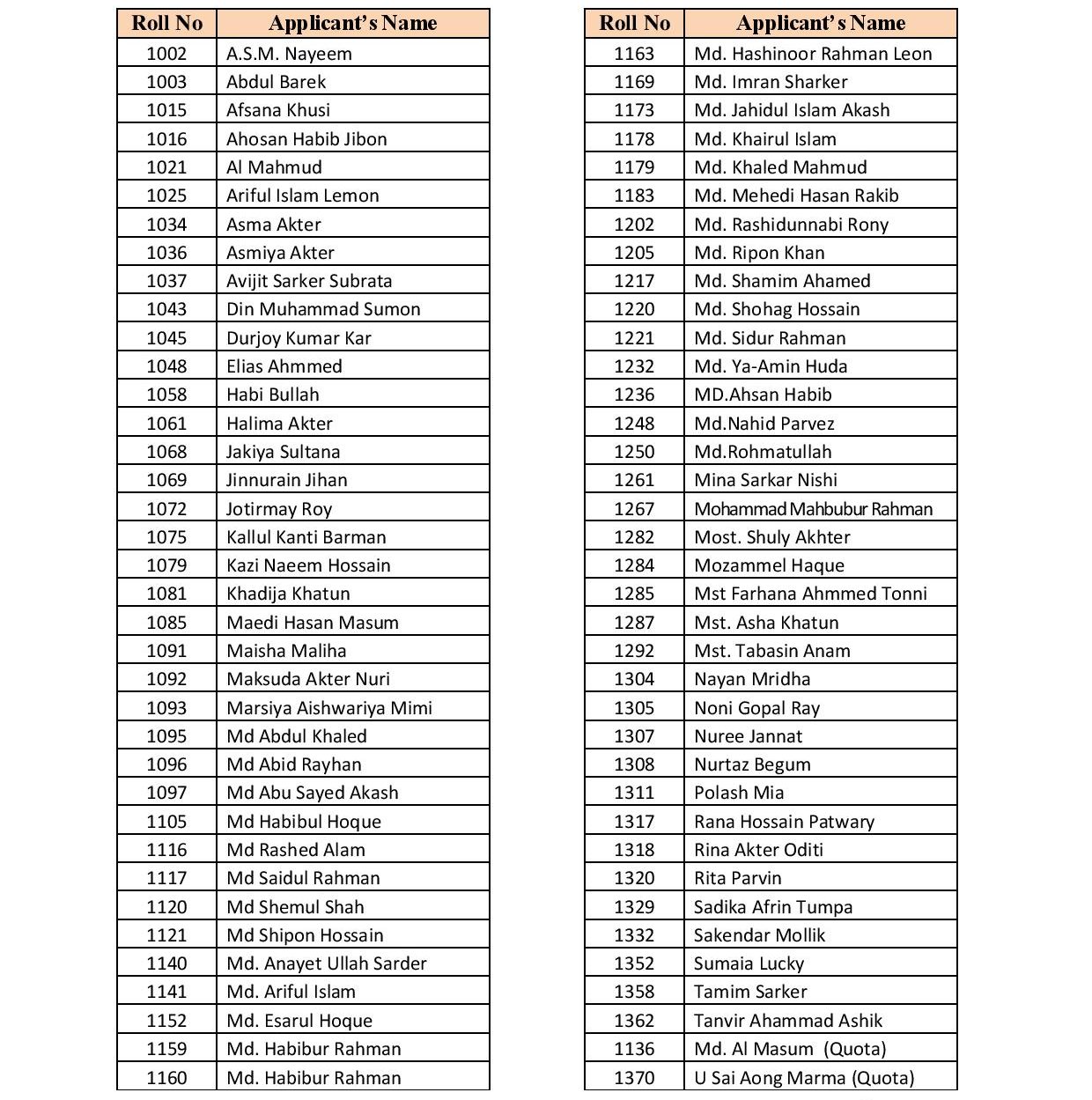 Contract Info of Bangladesh Open University
Available Time: 9:00 am to 1:00 pm; 01635832845, 01705897988, 01907451614
Available Time: 2:00 pm to 6:00 pm; 01635832846, 01907451612, 01705897917
If you have any questions about the Bangladesh Open University's CSE admission program, comment on your quote in the comment section and share this post on your social accounts.