Are you looking for the BOU BA/BSS admission circular 2022 and want to get admitted to the course? Today I am here with a new BOU admission circular for BA & BSS course. BOU's BA/BSS admission circular-2022 has been published on 10/04/2022. Bangladesh Open University's BA/BSS admission will start from 11 April 2022 to 15 July 2022. Read the full article before applying for BOU's BA/BSS admission. You will get here all the information that you need.
N.B: The application date for the BA, and BSS admission has increased to 31 August 2022 and the probable admission test will be held on 16th September 2022. 
BOU BA, BSS Admission Circular 2022
Bangladesh Open University officially announced the BA, BSS admission circular. BA/BSS (Honors) is a four-year course. BOU under the School of Social Science, Humanities and Languages is going to hold an admission program. 40 courses or 120 credits will be accomplished in this course and the registration period will be valid for 8 years.  
Key Information
Program Name 

 Ba & BSS Honors 2021-22

Application start 

11th April 2022

Application Deadline 

31 August 2022 (Revised)

Publish the list of selected candidates for the written test


28 July 2022, Thursday

Seating arrangement for written test

23rd August 2022

Written Test Date & Time


26th August 2022, 10: 00 to 11:00

Publication of written test results

31st August 2022

Appointment Date & Place

15/09, 18/09, and 19/09/2022 at the regional center BOU, Gazipur 

Subject-wise Merit List Publish


26 September 2022

Admission 

29 September 2022 to 31 October 2022

Total Admission Cost 

7310/-

Ba /BSS Fee Description 

Registration Fee (Per Semester)

200/-

Course Fee (Each Course 750/-)

1050
BOU BA/BSS Admission Requirements
Here are the minimum qualifications applicants have to possess for the application. Keep reading the information and meet the requirements.
Humanities Department: Applicants must possess a 2nd class or 2.50 GPA out of 5.00 and a 2.00 GPA out of 4.00 in SSC and HSC exams for the Bangla language & Literature, History, Philosophy, Islamic History subjects.
Social Science  Department: To get admitted to teg Political Science and Sociology subjects, students must have a minimum of 50% marks with 2nd division or 2.75 (5.00) or 2.2 (4) in the SSC and HSC exams.
BOU BA/BSS Admission Circular Notice Download
Bangladesh Open University published its BA/BSS admission circular notice. If you are interested in studying at BOU, Read this notice carefully before applying for BOU's BA/BSS program.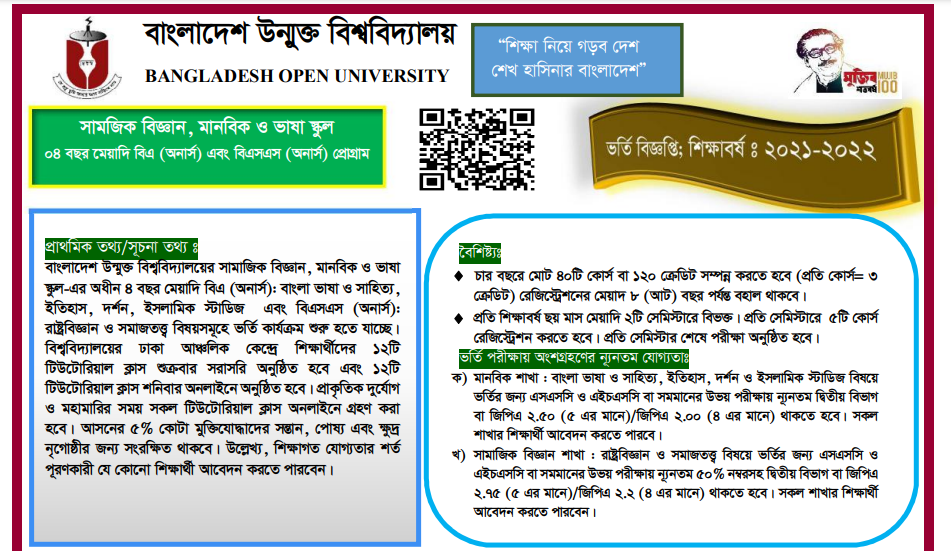 Read Also: Bangladesh Open University BA/BSS Result
How To Apply For BOU BA/BSS Admission 2021-22
Here is the BA/BSS admission application process 2022. If you want to get admitted to these programs then you have to know the BA/BSS online application process. So it is very important for all the applicants. For this, I have added here the detailed application process step to step. Keep reading and follow.
How to Apply Online
First of all, go to the BOU website: osaps.bou.edu.bd.
Then click on the School of Social Sciences, Humanities & Language (SSHL) under the offered program.
Click on Apply Button beside the BA/BSS and read carefully the instruction and re-click on the Apply Button.
Then fill up all the fields of General Information, Personal Information, and Academic Information respectively.
After providing all the information, click, on the Finish button. Then a temporary User ID and Password will be sent to your phone no.
After that click on Proceed to Payment and pay the fees through any of the gateways given there. After a successful payment "Payment has been completed successfully" will appear.
Print the admit card using the Temporary User ID and Password and submit the Educational attested Transcript, Certificate to the regional Center, Dhaka from 11 April to 15 July 2022.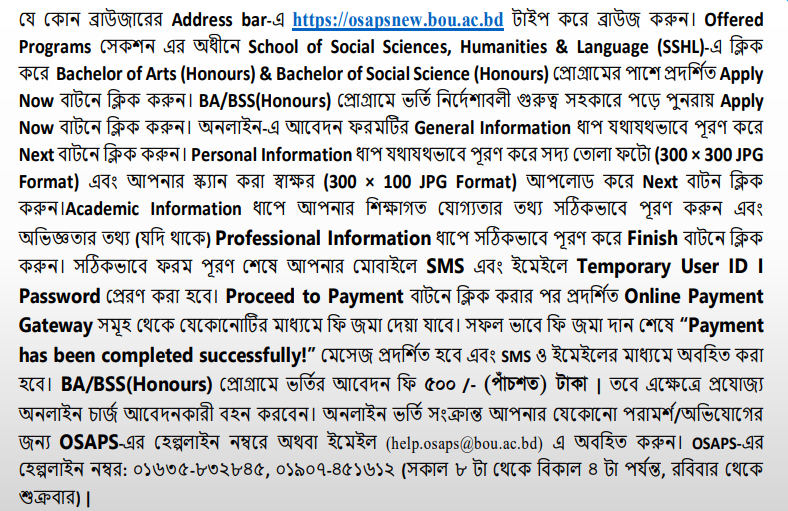 BA & BSS Admission Circular 2022 PDF
If you want to get the pdf form of the circular then here is the link. Just click here.
BA & BSS Admission Circular PDF.
BOU Admission Contract Info
Here are all details about the BOU Admission contract:
OSAPS Helpline
Available Time: 9.0 am to 1.00 pm
01635832845, 01907451614, 01705897988
Available Time: 2.00 pm to 6.00 pm
01635832846, 01907451612, 01705897917
In this post, we have tried to provide all the information on the BOU's BA/BSS Admission. If you think this article is helpful for you, comment on your quote in the comment section below.