BBA is one of the famous and high demandable honors degrees. So there is a great demand for the program, and most of us desire to admit ourselves to this program. If you are one of them and are interested in admitting yourself to the BOU BBA program, this article is for you.
BOU has already published a circular on their website asking for the students who want to complete the BBA course (Bangla Media). So if you are so much eager to obtain this degree, keep reading the whole article from top to bottom and note down all the information you need.
Bangladesh Open University offers the BBA admission circular (Bangla Medium), and finally, on 31/01/2022, BOU published the BBA admission circular (Bangla Medium) 2022 batch. In this article, you will get all the information in detail.
BBA Admission Circular 2022 (Bangla Medium)
Here is the detailed information about the BBA admission circular under BOU. This is the circular of BBA Bangla Medium. So if you are interested in getting admitted to the BBA program (Bangla Medium), this article is for you. Here you also get a PDF file of the circular, and you can easily download the circular. For more visit bou.ac.bd.
BOU BBA Admission Timetable
| | |
| --- | --- |
| Application Duration | 07 February 2022 to 07 May 2022 |
| Application Fees | 500 TK |
| Academic records Verification, Viva Voce, admission list Publish | 08 May 2022 to 22 May 2022 |
| Date of Admission | 23 May 2022 to 31 July 2022 |
| Orientation Class | 05 August |
| Tutorial Class | 12 August |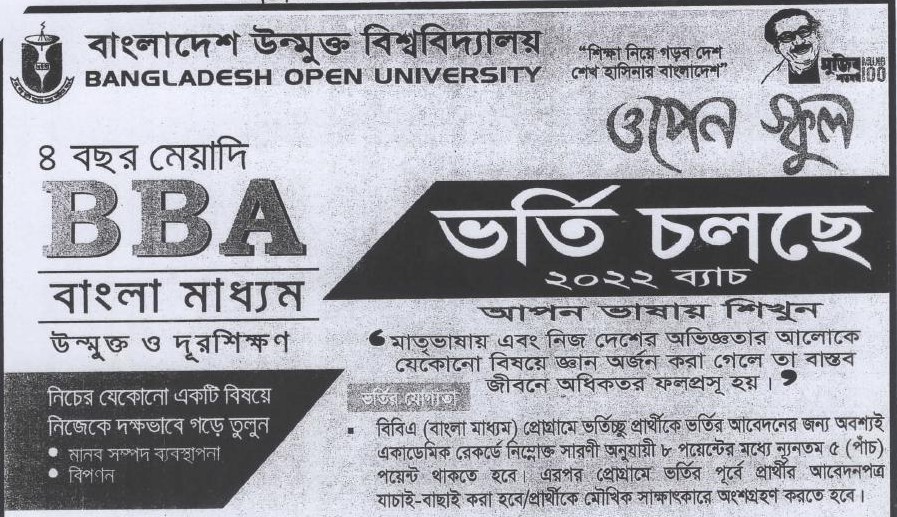 Admission Requirement
BBA Admission (Bangla Medium) 2022 batch is under the Bangladesh Open University. If you want to get the BBA degree under the BOU, it is the best time. If you're going to get admitted to this course, you have to possess some qualifications.
Candidates must possess 5 pints out of 8 in the academic records based on the table below.
Before admitting to this course, the applicant's application will be verified and cal for a Viva.
Necessary Documents: Students should bring all their certificates and mark sheets during Viva.
Exam Name
Certificate Degree
1st Class/Division/CGPA
2nd Class/Division/CGPA
3rd Class/Division/CGPA

3.5

and above

 Below 2.00 to 3.50 

 Below 1.00 to 2.00

SSC Or Equivalent
4.00 Point
3.00 Point
2.00 Point
HSC Or Equivalent
4.00 Point
3.00 Point
2.00 Point
BBA Admission Online Application Process Through OSAPS
The whole process will be accomplished online
In this case, the admission process, in addition to Fee payment, will be accomplished by Login in osapsnew.bou.ac.bd.
Apply for admission enter osapsnew.bou.ac.bd and click on Apply Now+ Application Form.
Save the user ID, password, corresponding transaction ID, and payment number received on your phone.
Visit osapsnew.bou.ac.bd and click on Log in Option for admission.
Then provide your User ID and Password. Then click on the 1st Semester Course Enrollment and complete your next steps.
After completing the admission process, submits all the payment related information like Profile, Transaction History, payment Documents, Print Copy of Registered Courses, Photocopy of all the Certificates and Marksheets, Photocopy of NID card/Birth Certificates, and one copy of Passport size photograph to the officials of the regional or sub-regional centers.
BBA Admission Circular 2022 (Bangla Medium) PDF File
Here is the pdf file of the BBA admission circular 2022 (Bangla Medium). From here, anyone can get the whole circular published by the BOU.
BBA Admission Circular Extended Date
Bangladesh Open University has published a circular on 08/05/2022 informing the BBA admission circular (Bangla Medium) extending the date. The previous application deadline was 07/05/2022 and the latest deadline is 31/05/2022. Here is the whole notice.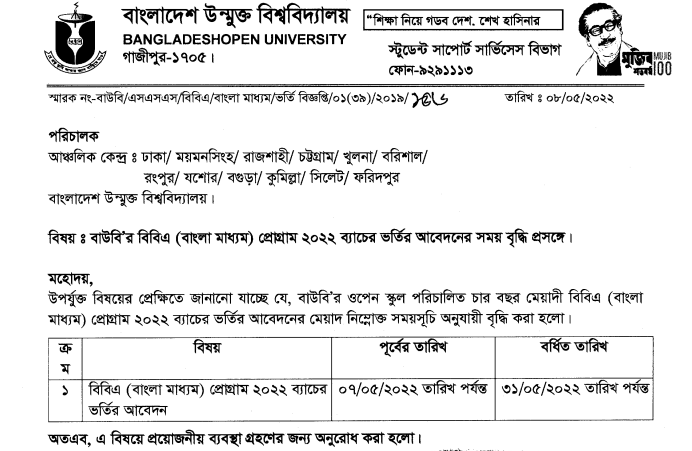 That's all about the circular I had for you. Please stay connected with us for more updates. Though this circular has changed several times, it is estimated that it won't be changed again as the school colleges are opened.