BOU SSC Admission Circular for sessions 2022-23 has been published recently. The need for an open university in Bangladesh was felt long ago. It is a distance learning institute and Most of the students in this university are employees who do not have time to actually take classes but desire to pursue their studies.  So there are many students at this University and here all the courses at the university level are available. From this University, you can complete your SSC course.
There is a great opportunity for you that BOU already has published the SSC admission circular on their website and I have already uploaded it to the article below. So if you are so eager to admit yourself to the SSC course then read the article and so as it is written here.
BOU SSC Admission Circular 2022-23
In the 2021-22 ‍season, Bangladesh Open University published an SSC circular on 29/06/2022 on its own website. So those who want to complete their SSC course at BOU University should take this opportunity and complete all the admission processes online. Here is the detailed information about the Circular. Get detailed information from the image. You can get the pdf file of the circular below. 

BOU SSC Admission Requirements
Must have passed JSC / JDC / VIII class / Government recognized equivalent examination.
Papers Required For Admission:
A) 1 copy passport size photo scanned soft copy (300×300 pixels).
B) Scanned soft copy of signature (300×100 pixels).
C) Copy of certificate of passing JSC / JDC / 8th class/government recognized equivalent examination.
D) Copy of birth certificate / national identity card.
Fees Required For Admission: 
A) Humanities Department: 4795 /- + Other Charges.
B) Business Education Department: 4795/- + Other Charges.
C) Science Department: 4795/- +Other Charges.
Means of Fee Payment: bKash (Charge 1.5%), SureCash (Charge 1%), and DBBL (Charge 15T).
BOU SSC Admission Detailed Time Plan
Online Application submission: 01 July 2023 
Application Deadline: 03 November 2023
Open University SSC Admission Fee
Online Application Fees: 100 BDT
Registration Fees: 150 BDT
Course Fees: (525) 3675 BDT
ICT Practical Fees: 100 BDT
Academic Calendar fees: 50 BDT
Digital Student ID Card Fees: 200 BDT
Exam Fee: (50) 350 BDT
Transcript Fees: 70 BDT
BOU SSC Admission Circular PDF File  Download
Bangladesh Open University published its SSC admission circular notice. Now, they published the Revised copy, Read this notice carefully before applying. Be careful when you paid all the fees.
Read Also: Bangladesh Open University B.Ed Admission
BOU SSC Admission Circular 2022-23 (Revised)
A few days ago, BOU published a circular on BOU SSC admission 2021-22 and a fixed admission date. But recently on 27/10/2022, they published another notice on their website extending the admission date. So if you want to admit yourself to the BOU University on SSC course then focus on the following information and image. In this post, I will write about all the information for the BOU SSC Admission process.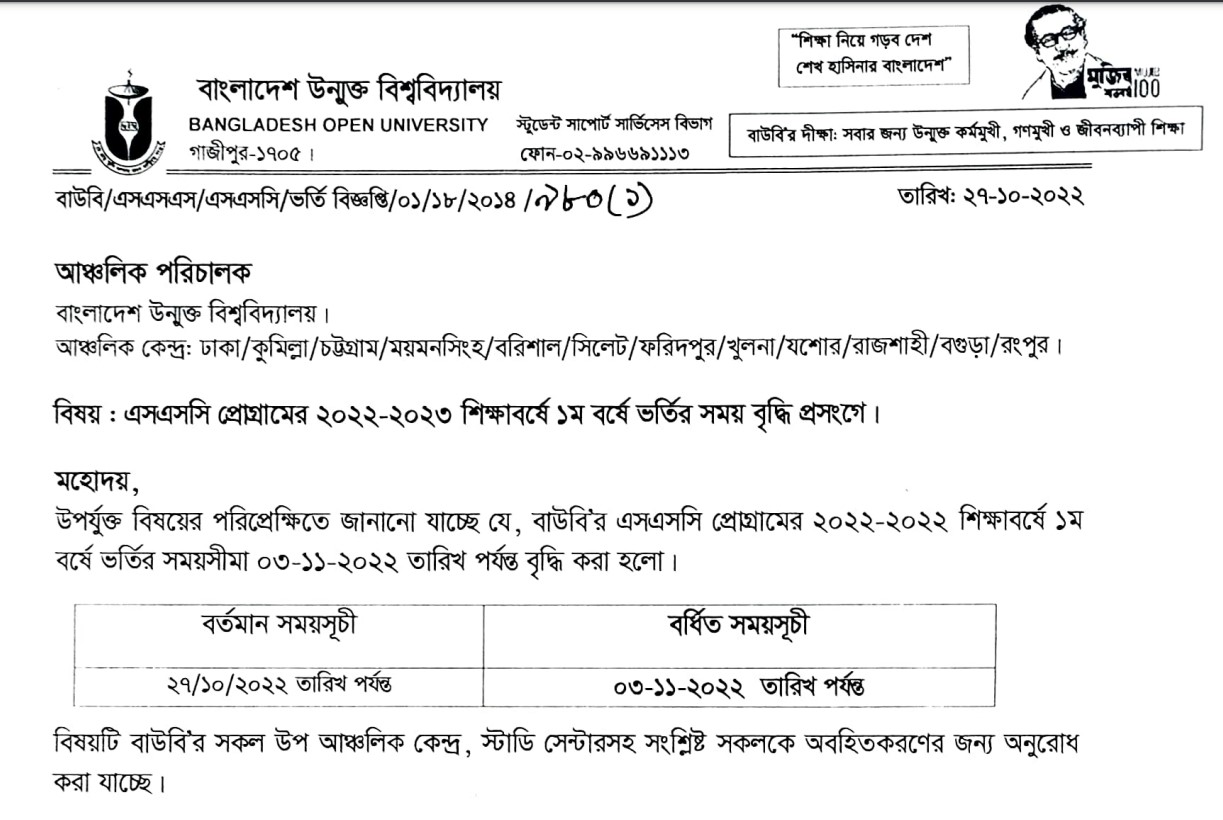 BOU SSC Admission Application Process 2022-23
Here is the full SSC application process. If you are interested to get admitted to the SSC program under the BOU then here is the admission application process. The date has already been extended.
SSC Admission Online Application Process
First of all, go to the BOU website:http://osaps.bou.edu.bd/
Then click on Secondary Certificate (SSC) – Registration / Admission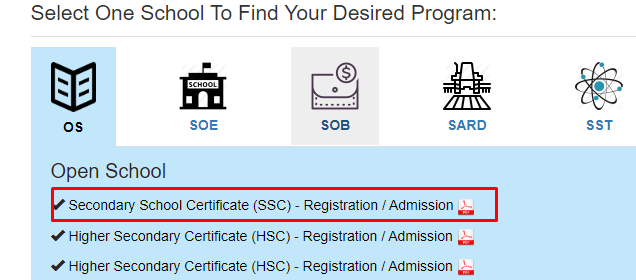 Then another page will appear.

Click on Open School (OS). Then on Apply Button beside Secondary School Certificate (SSC)

Then you will get an Application Form that will be completed in three steps; Step-1: General Information, Step-2: Personal, Step-3: Academic Information.

Finally, Click on Finish Button.
The student who is interested to apply for the BOU's SSC admission, must go to this website and fill up all information. Then he will get an SMS with a Login ID and Password.
Contact Info of Bangladesh Open University
OSAPS Helpline
Available Time: 9.0 am to 1.00 pm
01635832845, 01907451614, 01705897988
Available Time: 2.00 pm to 6.00 pm
01635832846, 01907451612, 01705897917
In this post, we have tried to cover all info about Bangladesh Open University's SSC Admission. If you have any questions about admission to the following program, comment let us know by your comment.