School of Social Sciences, Humanities, and Languages (SSHL) of the Bangladesh Open University has already offered Masters of Laws (LLM)admission circular for the 2021-22 academic year. Student class will be held at the Dhaka regional center.
LL.M is one of the most popular and demandable degrees in the present situation. Thousands of students around the country study this course and exercise laws. Bangladesh Open University works its leg behind students and offers a number of courses around the country; LLM is one of them.
If you are eager to get admitted to the Master of Laws (LLM) under the Bangladesh Open University, this article is for you. You will get detailed information about BOU LLM admission circular 2022 | Masters of Laws admission 2021-22. You will get all the information on bou.ac.bd. 
LLM Admission Application Duration has been increased to 22 August 2022. 
BOU LLM Admission Circular 2022
Are you looking for the LLM admission circular 2022 and want to study this subject? If yes, then you are at the right place. This LLM course is for a year and includes 10 courses. This course is divided into two semesters.
However, if you would like to admit to the course, you must know some key information like the application duration, admission-related date and fees, and so much information. Keep reading the article; I hope you will get the details.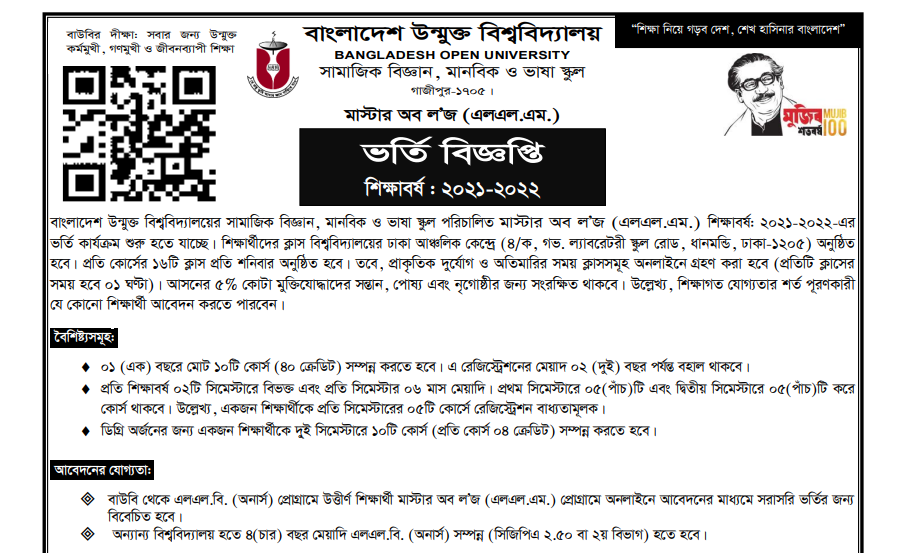 BOU LLM Admission Key Information
Here is some key information about the BOU LLM admission 2022. To complete the whole process, you have to know all the information about the dates and fees. Here are the date and fees-related information for you.
Online Application Duration

07th June to 22 August 2022 (Revised)

Publication of the Selected Candidate List & admit Card Issue Date for Appointment

——————

Appointment Date, Place, & Time

——————

Subject Wise Merit list Publish

24th October 2022; 10:00 to 01:00. Dean Office, SSHL, BOU, Gazipur 1705

Admission

1st November 2022

8th November 2022

BOU LLM Admission Fees-Related Information

Course Fee

2100/-

Admission Fee

1000/-

Examination Fee

400/-

Academic Calendar Fee

50/-

Digital ID Card Fee

200/-
BOU LLM Admission Requirements
Applicants must possess LLB (Hons) course to admit this LLM course, or
applicants must complete LLB (Hons) 4-year course from other universities with a minimum of 2.5 GPA.
BOU LLM Online Application Process
The application for the BOU LLM admission will be accomplished online. Here is the online application process for the students. If all the students follow the following instructions carefully, then all will be completed the BOU LLM online application process for LLM admission in 2022.

I hope all this information will be enough for you. If you need the pdf file of the BOU LLM admission circular 2022, click here. If you need more information about the course, you may knock us via comment.