It is great news for the Master of Public Health subject's students that their MPH exam schedule has been published by Bangladesh Open University on their official website. BOU MPH exam routine is available here. In fact, It is the routine for 1st and 3rd-semester's students. At this time, many students are waiting for their Master of Public Health(MPH) department's exam schedule. In this article, I will share with you the exam routine of the Master of Public Health(MPH) department. So, read this article carefully and get your exam schedule.
Bangladesh Open University MPH Exam Routine 2020
Here I have provided the exam schedule for the Master of Public Health department(MPH). Actually, It is the routine of the 1st and 3rd semester. Have a look
Here is the 192 Term 1st semester's routine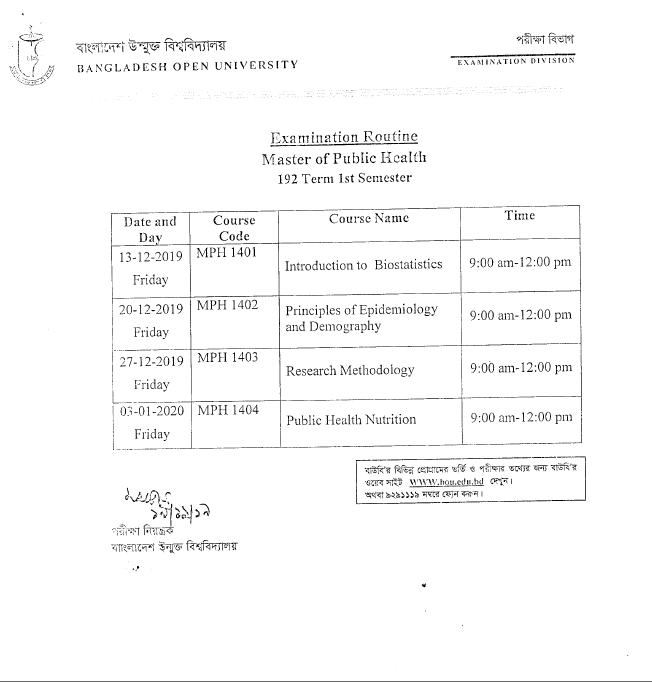 And here is the 192 Term 3rd semester's routine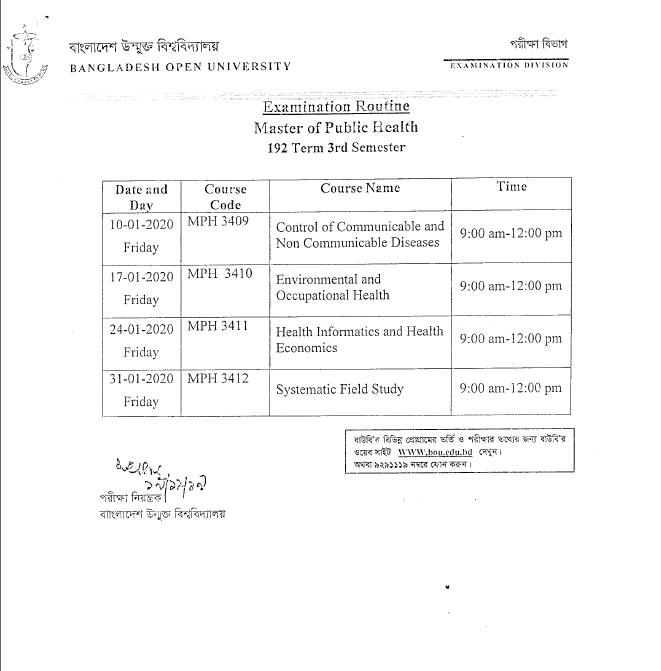 BOU MPH Exam Routine 2020 PDF File
For your inconvenience, I have uploaded a PDF file of the BOU MPH exam routine. If you want, you can download it. Here is the PDF copy of the BOU MPH exam routine below. Just click and download it.
BOU MPH Exam Course Name With Course Code
Here, I have written 192 Term 1st and 3rd-semester course names and book code. The exam time is given in the image and the PDF. Take a look below to get your semester-wise course list:
1st Semester
MPH:1401- Introduction to Biostatistics
MPH:1402- Principles of Epidemiology and Demography
MPH:1403- Research Methodology
MPH:1404- Public Health Nutrition
3rd Semester
MPH:3409- Control of Communicable and Noncommunicable Diseases
MPH:3410- Environmental and Occupational Health
MPH:3411- Health Informatics & Health Economics
MPH:3412- Systematic Field Study
On this website, we provide such type of information, if you are interested to know about Bangladesh Open University's academic activities, you can visit our website whenever you will need it. Thank you for staying with us.