Bangladesh Open Univerity offers SSC courses for the leg behind and other students who want to take remote education. Any student can take this course under the BOU, and this SSC program is available in about all country districts.
Bangladesh Open University's SSC exam routine has been published on the official website of BOU.  Bangladesh Open University holds 1st & 2nd year together. So, If you are a candidate for the SSC exam of Open University, read this article and download your exam routine below.
N.B: Bangladesh Open University has extended the SSC exam date up to 31/08/2022. 
BOU SSC Exam Routine 2022 (Revised)
BOU SSC exam routine 2022 has already been published. The image of the BOU's  SSC routine is available here. Download your BOU's SSC exam routine from below. The 1st year and 2nd year examinations of the SSC course will be held on 19th August 2022 and will continue up to 16 September 2022.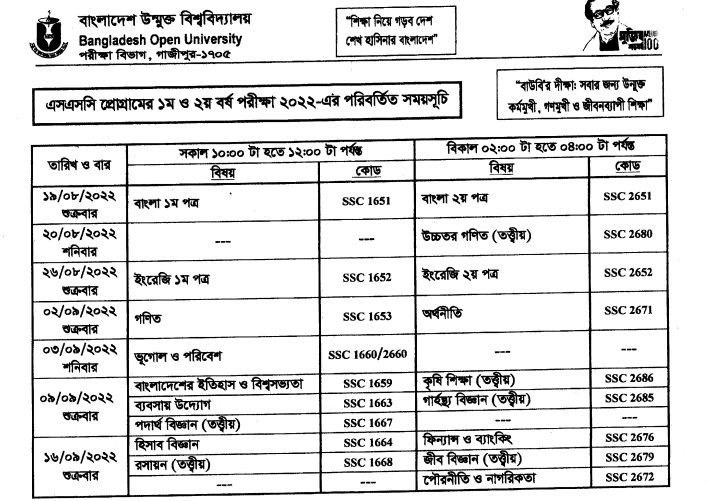 Read Also: Bangladesh Open University SSC Result
BOU SSC Exam Routine PDF
We have collected a PDF of the Bangladesh Open University's SSC Exam Routine 2022. If the image version of the routine will not show well.  For this, we have provided you with the official PDF link of Bangladesh Open University. If you need the PDF, download it by clicking the link below.
Important Notice For BOU HSC Student 2022
The student's ID number and program code on the answer sheets should be written in English correctly.
This is the last opportunity for the 2013 batch's students to attend the SSC Examination-2020.
Students are not allowed to carry and use mobile phones during the examination.
The exam hall cannot be left within 1.00 hours of the start of the examination.
No student will be able to take the exam without an identity card.
The practical examination schedule will be known from the respective test centers.
Authorities may change any of these schedules as needed.
Suppose you want to know more about this type of information. Please stay connected with us, and don't forget to hit the like share button.