Master of Education (M.Ed) is the one kind of degree program in education. Recently, Bangladesh Open University has been published the M.Ed admission circular 2021-22. The main objective of M.Ed is to provide an opportunity for higher study in education and thereby produce a group of highly skilled professional group experts in education and pedagogy. This program is hosted by the School of Education(SoE) under Bangladesh Open University.
Generally, the School of Education(SoE) offered three formal programs: Master of Education (M.Ed), Bachelor of Education (B.Ed), and Certificate in Education (C.Ed). The first and foremost responsibility of the School of Education (SOE), BOU is to improve and nurture the educational thoughts and teaching capacity of the teachers by providing effective teacher education and training for all levels of education.
BOU M.Ed Admission Circular 2021-22
Masters of Education (M.Ed) which operates the School of Education(SOU) of Bangladesh Open University has published its circular three semesters durable Masters program in Education. They called applications for admission for 2021-22 sessions from every eligible candidate.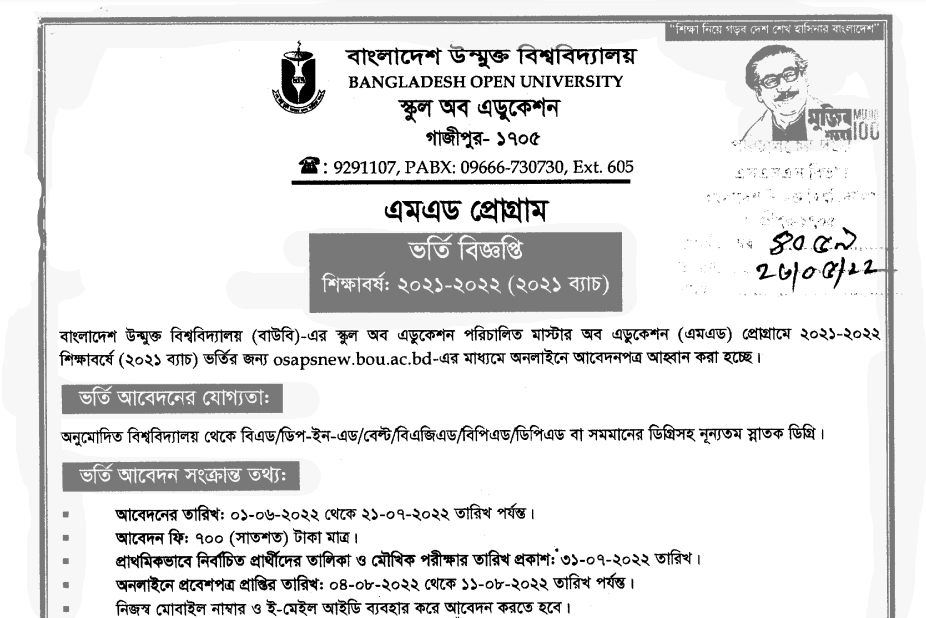 BOU MEd Admission Online Application Process
Follow the instructions for your admission to the BOU's MEd program
Payment 500tk  to the number 01756-045166 via bKash and save the transaction id.
Open the link https://osaps.bou.edu.bd/
Click on Master of Education(M.Ed)
Upload your picture and signature
Fill Up the blank online form according to the direction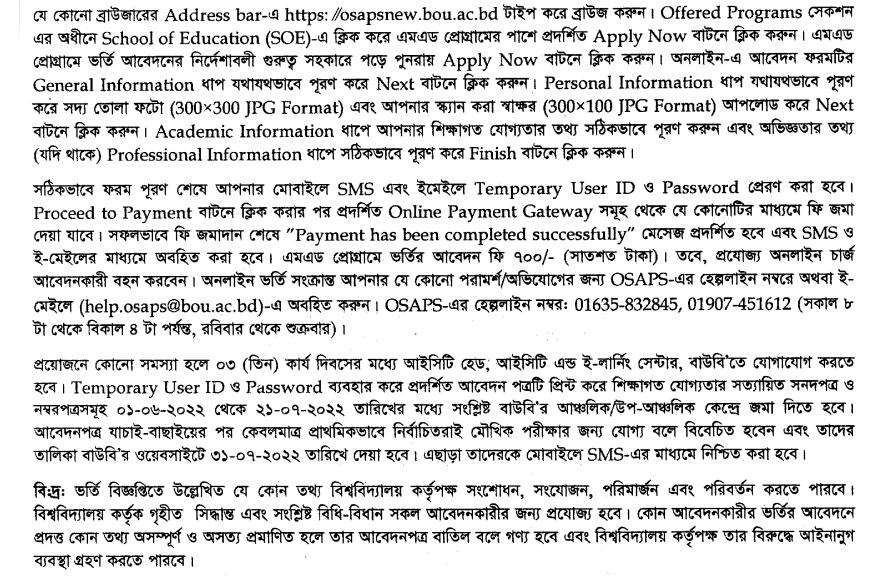 BOU M.Ed Program Details
School of Education (SoE) faculty has arranged their Masters of Education(M.Ed) program with various systems and facilities. For details see below.
Level
Course Plan
Semester
Three (3)
Semester duration
6 months
Duration of each Tutorial Session
60 minutes
Total Credit Hour
37
Minimum Duration
1&1/2 year
Maximum Duration
5 years
Admission Time
April-June
Course Per Semester
1st Semester- 6 Courses
2nd Semester- 4 Courses
3rd Semester– 4 Courses
Course Fees (Per Course)
Tk. 550
Registration Fee (Per Semester)
Tk. 200.00
Re-exam fees (Per Course)
Tk. 120.00
Admission guide with the application form
Tk. 300.00
Minimum Qualification for Admission In BOU MEd Course
Graduation in B.Ed/Diploma in Ad/BAGAD/BELT/BPAD/DPAD or equivalent degree from any reputed/UGC approved local or foreign university.
Online Application Submission Dateline:
Every student must be applied online for admission within the admission deadline declared by the authority.
| | |
| --- | --- |
| Issues | Dates |
| Application start | 01/06/2022 |
| Application end | 21/07/2022 |
| Primary Selected Candidate List & Viva-Voce Test Published | 31/07/2022 |
| Online Admit Card Available Date | 04/08/2022 to 11/08/2022 |
| Application Fee | 700/- |
Admit of Viva Voce:
Students must bring the admit card in viva voce.
You will get an SMS from 16/11/2020 to 20/11/2020 about viva voce.
Go to https://osaps.bou.edu.bd/ and log in your id by giving your user id and password
You will see your admit card, download it, and then print it.
BOU M.Ed Admission Circular Extended Date 2020-21
Here I am going to share with you the extended date of M.Ed admission in 2022. The first circular of M.Ed admission for the academic year had published in 2020 and there was a great delay to complete the process. Recently BOU has published a circulate on 05 July again on their website informing about the extension date of the M.Ed program. This is the circular below. Read and collect the information you need.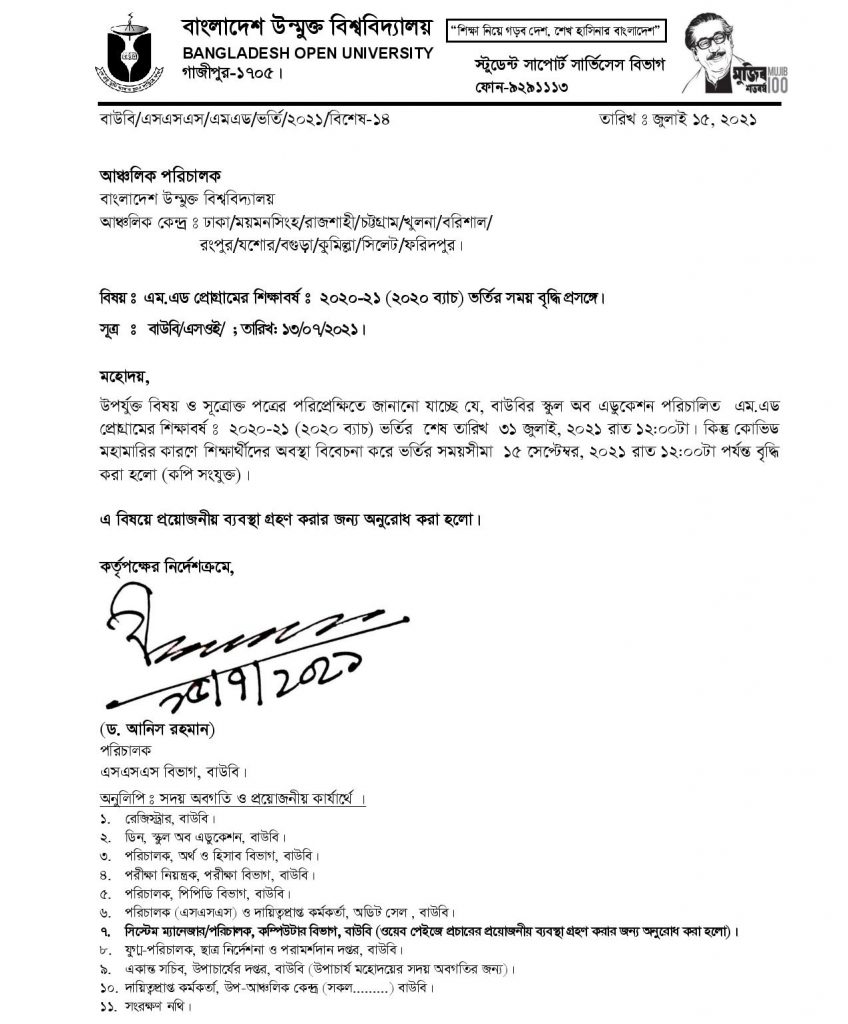 Preliminary Selected Candidate & Viva Voce Date 
Recently BOU authority has published a circular about the viva voce date. Those students who are primarily selected by the BOU authority are able to attend the viva voce exam and the exam will be held via Zoom App. The viva-voce will start on the date 16 November 2020 according to the education qualification & age basis points. Here I am going to share with you the whole circular via images, and you will be able to get the PDF file from here.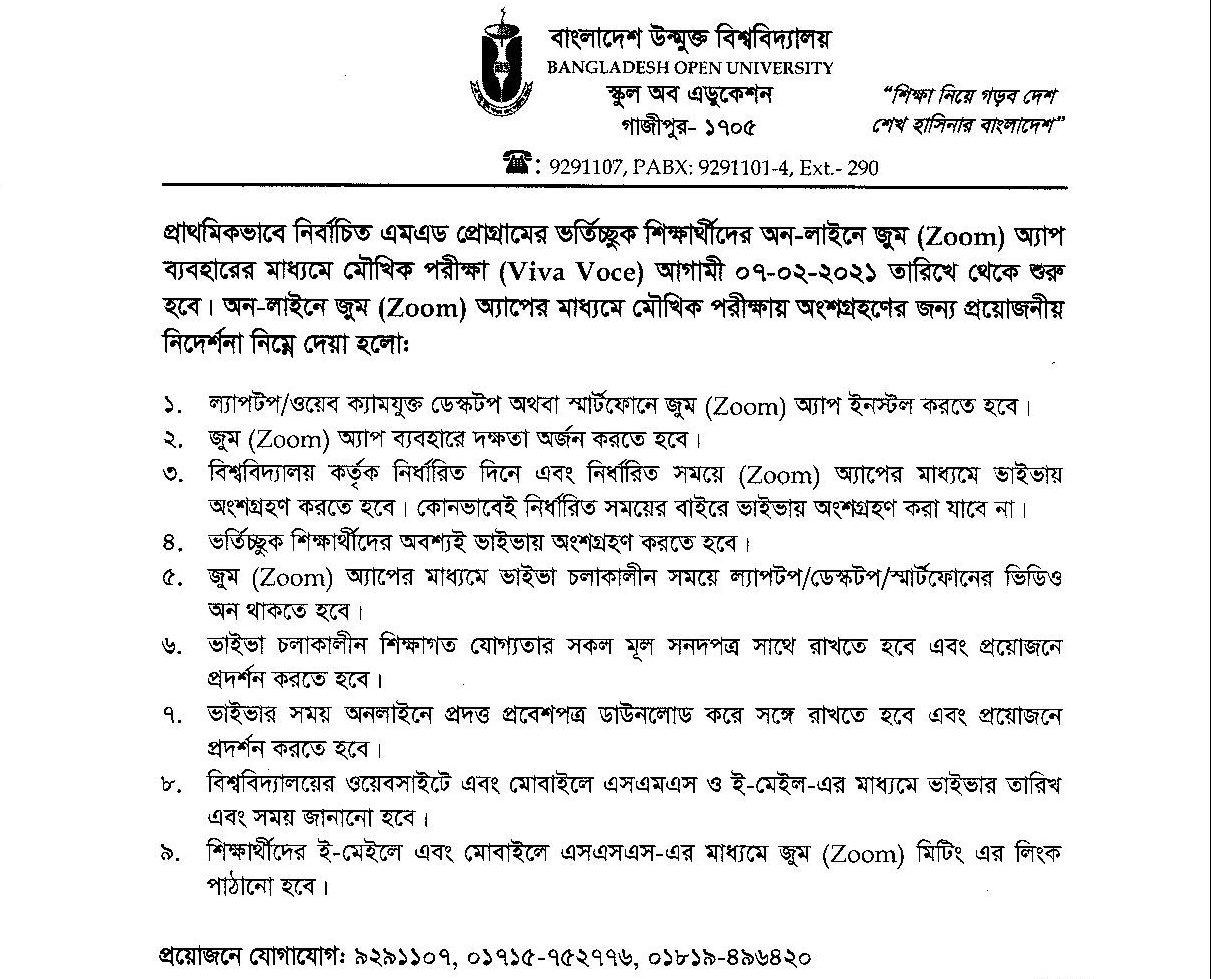 Preliminary Selected Candidate & Viva Voce Date PDF
To get the PDF file of the VIva-Voce circular, just click here. Then you will get all the information related to the Viva-voce exam. Click here.
BOU M Ed Merit List
BOU MEd merit list will be published within *-*-2020 (We will update the date when it will be published). The student merit list of the BOU M Ed program depends on the applicant's educational qualification and the applicant's age. After hugging those two things, the M Ed merit list will publish for VIVA Voce.
BOU M.Ed Admission Helpline
If you face any problems when you will apply to this program, you can contact the Bangladesh Open University's authority. To contact with School of education faculty, you have to call the number which I have given below.
Contact Information of the School
Tel: 88-02-9291107 (off.)
Fax: 88-02-9291107
Or you can also contact the register of Bangladesh Open University
Dr. Md. Shafiqul Alam
Registrar
Bangladesh Open University
Board Bazar, Gazipur-1705, Bangladesh
Phone: 88-02-9291112, 09666730730 Ex.105
Fax: 88-02-9291130
Email: [email protected], [email protected], [email protected]
Website: www.bou.edu.bd
M.Ed Admission Notice PDF & Image
If you are interested to admit this M.Ed program, you have to read our full article and you can also see the admission image.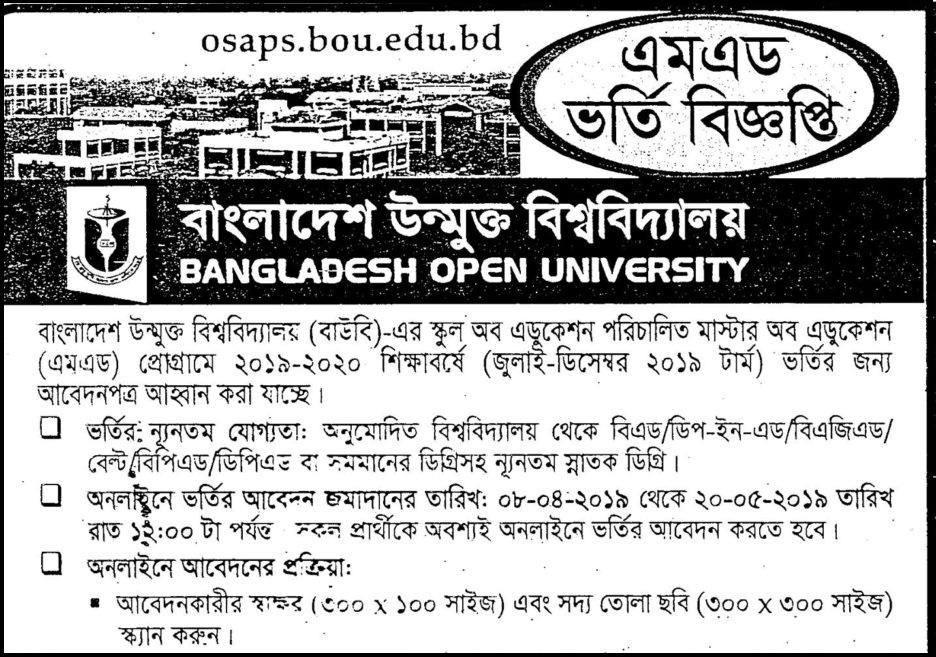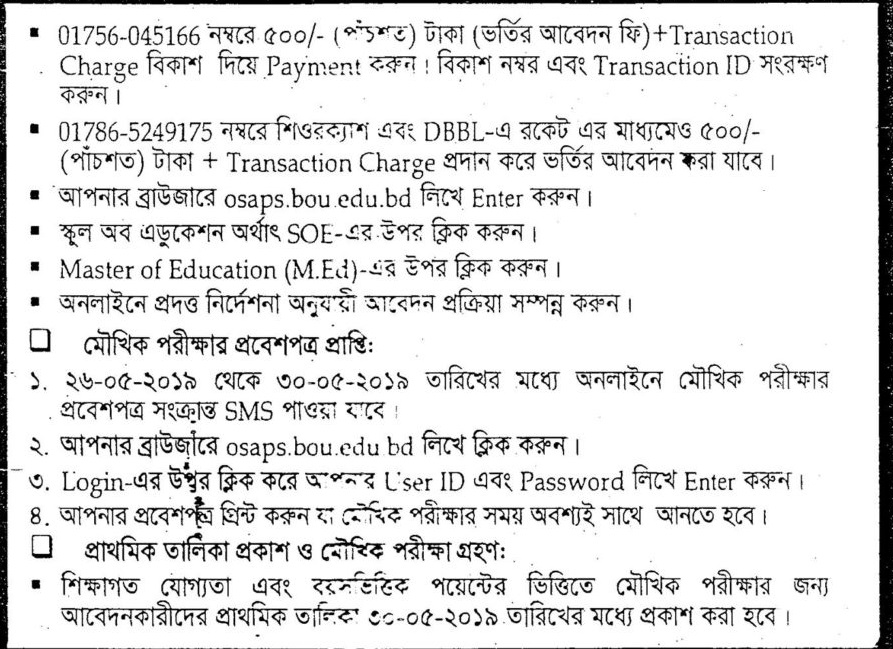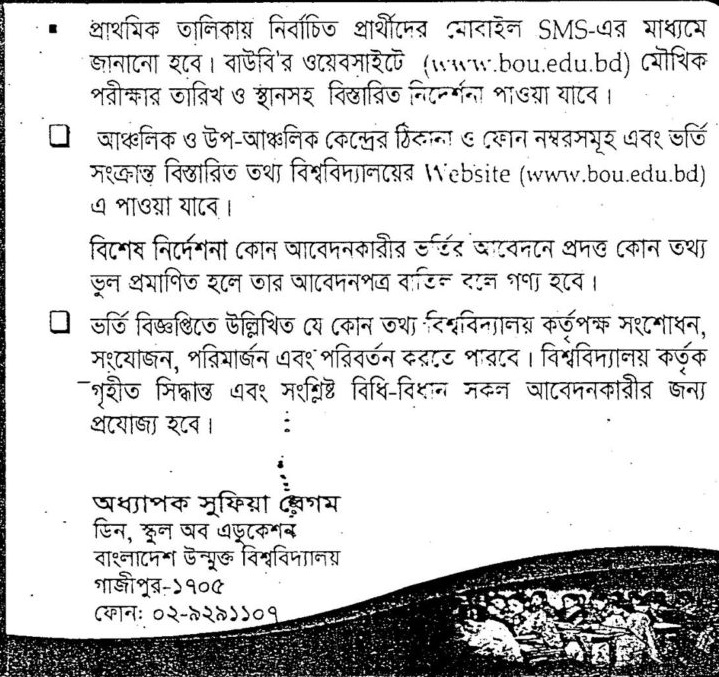 You will see finally the selected candidates in bou.edu.bd as well as we will also provide the result here. So, stay with us to know the latest updates and any news about the Bangladesh Open University. Tell your friend about our website and never miss any blogs on this website.