BOU Professional MBA Program Admission 2021 has finally been published on the BOU's website. You will be glad to know that BOU has published the professional MBA admission circular on 21 September 2021. If you want to pursue your study in the Professional MBA Program under BOU, there is an excellent chance of knocking at the door. Here you will get detailed information and an explanation about the notice. You also get the pdf file of the circular below.
BOU Professional MBA Program Admission Circular 2021
Admission is going on on the Professional MBA program under Bangladesh Open University. Professional MBA is mainly a 1-year course for those who have already completed their 4-year BBA graduation course and for other 2-year. There will be an online class during the Covid-19. There are only two campuses of the program one is at Gazipur, and another is Dhaka. For the course, you will have a graduation in any discipline.
Important Dates of the Professional MBA Admission
Issue
Date 
Application Duration
26 September to 24 November 2021
List of Selected Applicants
28 November 2021
Viva-voce
Gazipur Campus – 26 November (4:00 pm)
Dhaka campus – 26 November (06:00 pm)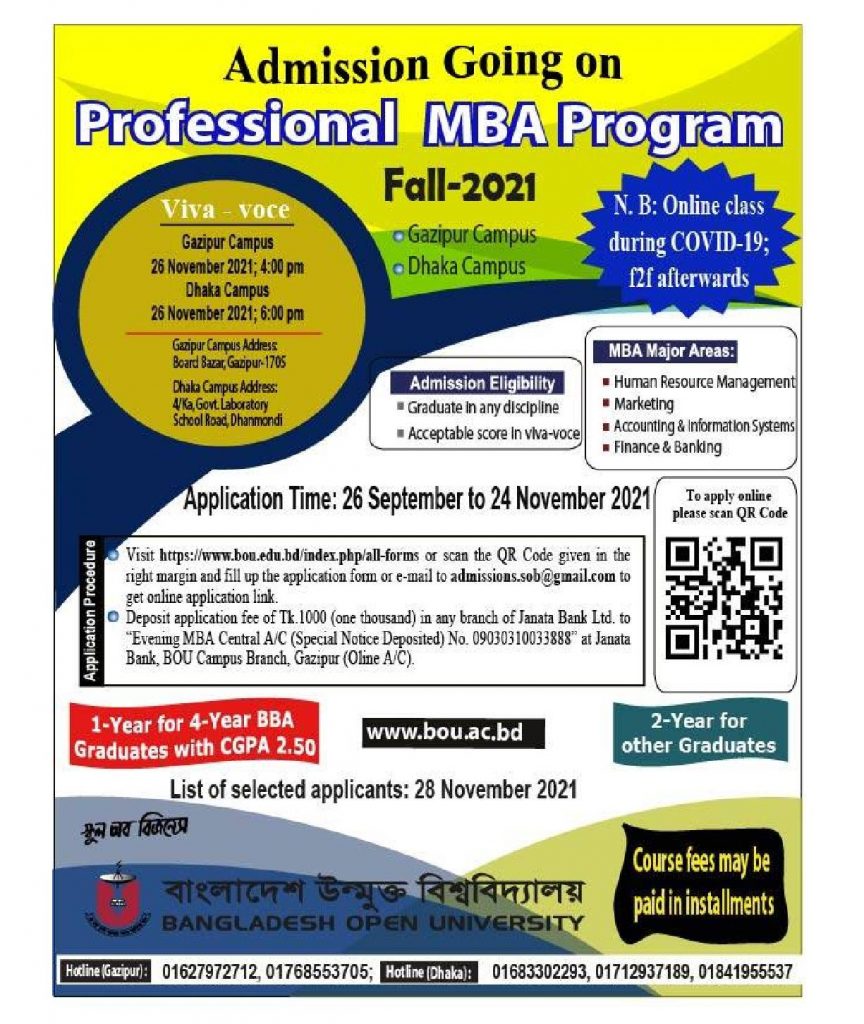 BOU Professional MBA Program Application Process
First of all, you have to visit this link or scan the QR code given on the above circular. If you want to get the application link, e-mail [email protected], and you will get an application. Then fill-up the form with all the information carefully.
BOU Professional MBA Program Fee Payment Process
Deposit application fee of TK 1000 in any branch of Jamuna Bank to "Evening MBA central in A/C (Special Notice Deposited) no 09030310033888" at Jamuna Bank at BOU campus branch Gazipur (Oline A/C).
For any information contact (Hotline) Dhaka: 01683302293, 01712937189, 01841955537
(Hotline) Dhaka: 01627972712, 01768553705.
To get MBA Admission Circular 2021, visit BOU MBA Admission Circular.