Post Graduate Diploma in Management is shortly called PGDM, and Certificate in Management is called CIM. Those are the courses of a two-year duration that is equivalent to the MBA. There is also access to pursue the program under Bangladesh Open University.
Many students are taking the course under BOU, and recently, BOU has published an exam routine circular for PGDM/CIM 192 term (2nd Level) students. If you are one of them, keep reading the article from top to bottom and note down the information you need.
The PGDM/CIM circular has published on 01/09/2021 on the BOU website. Here I have explained in detail about the circular. You also get the pdf file from the article.
BOU PGDM/CIM Examination Routine Of 2021 Session
BOU publishes the notice of PGDM/CIM Examination Routine on 01 September 2021 on their website. This is the routine for the PGDM/CIM examination 192 terms (2nd Level). There are five subjects in the courses. The exam will continue from 17/09/2021 to 22/10/2021, and the exam will be held from 9:00 am to 12:00 noon.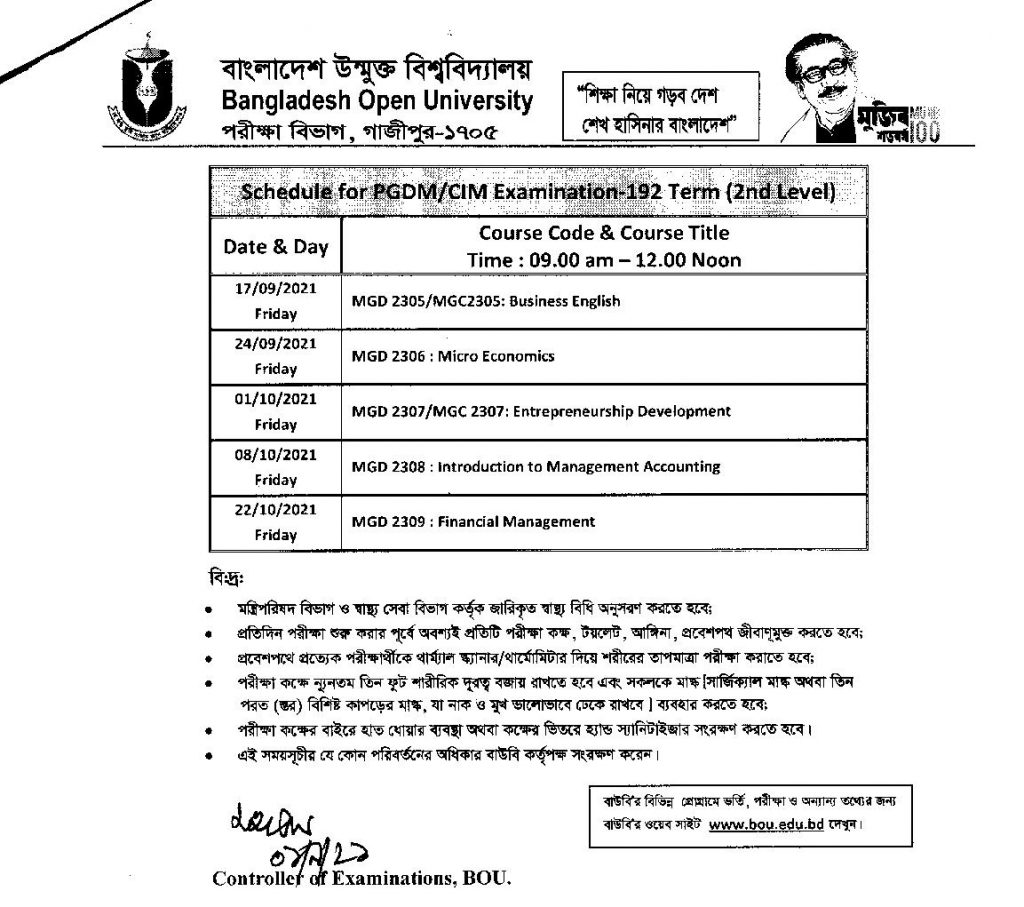 Subject Code & Course Title
MGD 2305/MGC2305: Business English
MGD 2306: Micro Economics
MGD 2307/MGC 2307: Entrepreneurship Development
MGD 2308: Introduce to Management Accounting
MGD 2309: Financial Management
BOU PGDM/CIM Examination PDF File 2021
For those who want to get the pdf file of the circular, I have attested here the pdf file. The image above may seem vague or obscure to you. So here is a pdf file of the exam circular where you will get clear images.
BOU PGDM CIM Examination Routine 2021
To get more  information visit Bangladesh Open University
For the exam, you have to follow all the health rules issued by the Ministry of Health and keep a minimum of three feet distance from each other. All should wear surgical musk and come to the center before the fixed time. Finally, please stay connected with us for more information.