Master of Disability Management and Rehabilitation(MDMR) is one of the important departments in social science faculty. Recently, Bangladesh Open University has been published the admission circular on this subject. If you read this article, you will able to know the whole information of the MDMR admission circular which offered Bangladesh Open University. So read this article carefully and apply for admission if you have needed it.
BOU Master of Disability Management and Rehabilitation Admission Notice 2020-21
It is two years durable program. But students will complete this program within five years from the date of registration.
Application time: 11/09/20 to 12/11/20
Selected candidate list date: 17-11-20
Viva voce(online-zoom): 21/11/20
Result publication date: 29/11/20
Final selected candidate admission date: 29/11/20 to 13/12/20
Waiting list result date: 15/12/20 to 17/12/20
Orientation & Class start: 08/01/2021
BOU MDMR Admission Minimum Requirements For Apply
Students who have 50% marks or CGPA 2.25 (out of 4) and passed from Physiotherapy, Disability Management, Occupational therapy, speech, and language therapy, health science, medical science, Biological science departments of any government-approved university, SSC and HSC total CGPA will be at least 6 with Biology subject, they can apply.
One more condition that students have passed with 1st class with the Biology subject in SSC/ HSC. Or having a minimum 2nd class in SSC/HSC/ with 2.50cgpa Graduate in the nursing department. To know more information see this image or visit http://bou.edu.bd/
BOU MDMR Admission Process
BOU has been announced that only online applications are accepted. So, you can apply only online.
First of all, Go to the website: http://admission.bousst.edu.bd and click on "Apply Now".
Fill the online form correctly and Submit it after showing the preview.
And you will show "CPCL PIN No" save or print this.
Then pay your bill by your Sure cash/bKash/DBBL.
Save user id and password for your records
BOU MDMR Admission Exam Admit Card Download
You can collect your admit card from 18/11/2020
Go to https://osaps.bou.edu.bd/ and then write user id, password to log in.
Then print your admit card with A4 size paper format
BOU MDMR Admission Circular Notice 2020 Image
To see clearly the admission notice, I have uploaded an image of BOU's MDMR admission circular 2020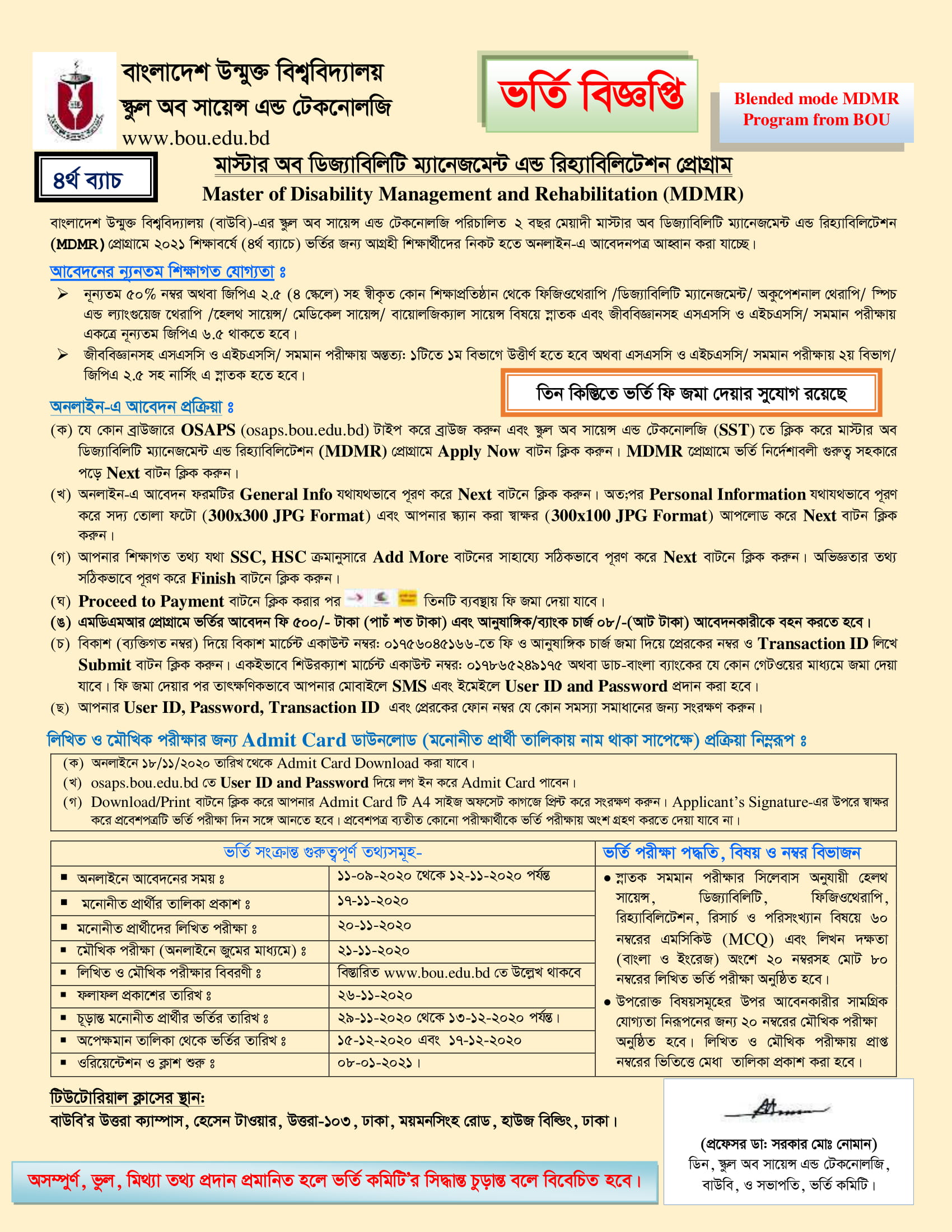 BOU MDMR Admission Circular Notice 2020 PDF
If you want to download this admission notice as a PDF file, you can form below.
I think you have been benefited from this article and also from our website. If you want to know about Bangladesh Open University's activities. Keep your eyes on this website and never miss any update of the Bangladesh Open University from our website.