Master of Disability Management and Rehabilitation (MDMR) is one of the important departments in social science faculty. Recently, Bangladesh Open University has been published an admission circular on this program. If you read this article, you will be able to know the whole information of the MDMR admission circular which offered Bangladesh Open University. So read this article carefully and apply for admission if you have needed it.
Bangladesh Open University has announced the admission circular on 11/10/2021 and it is the admission for the 5th batch. To know the application process, minimum requirements, important dates, admit card download, etc information, keep reading the article.
BOU MDMR Admission Notice 2020-21
BOU Master of Disability Management and Rehabilitation(MDMR) admission information is available here. Do you want to study at the Master of Disability Management and Rehabilitation (MDMR) program under the BOU? If yes, then this is the article only for you. To get admitted, the following information is very essential for you. So read the following information carefully.
Important Dates & Admission Test
Here is the detailed information about important dates for the MDMR Admission test. MDMR Admission will be completed in three phases MCQ, Written, and finally Viva-Voce. MCQ test of 60 marks, a Written test of 20 marks, and Viva-Voce 20.
| | |
| --- | --- |
| Issue | Date  |
| Online Application Duration | 26/10/2021 to 24/11/2021 |
| Announce the List Of Selected candidates | 30/11/2021 |
| Written Test For the Selected Candidates | 10/12/2021 |
| Description of Written & Viva-Voce Exams | www.bou.ac.bd |
| Admission Date For Final Selected Candidates | 27/12/2021 – 17/01/2022 |
| Admission Date From The Waiting List | 18/01/2022 – 19/01/2022 |
| Orientation & Class Start | 21/01/2022 |
BOU MDMR Admission Minimum Requirements
Students must obtain a minimum of 50% marks or CGPA 2.25 (out of 4) and will be passed from Physiotherapy/Disability Management/Occupational therapy/speech/language therapy/health science/medical science/Biological science departments of any government-approved university, SSC and HSC total CGPA will be at least 6 with Biology subject.
One more condition that students have passed with 1st class with the Biology subject in SSC/ HSC. Or having a minimum 2nd class in SSC/HSC/ with 2.50cgpa Graduate in the nursing department.
To know more information see this image or visit http://bou.edu.bd/
BOU MDMR Online Application Process
BOU has been announced that only online applications are accepted. So, you can apply only online.
First of all, Go to the website: http://admission.bousst.edu.bd.
Then click on "School of Science & Technology" under offered program section and click on "Apply" besides the Master of Disability Management and Rehabilitation (MDMR).
Then read all the instructions and first fill-up the General Information and then click on "Next" and fill up the Personal Information.
Upload your recent taken photographs (300×300), signature (300×300) and click on "next"
Fill up your academic qualification and other experience/internship and click on "Finish". At the time, a password and user ID will enter your Mobile via SMS.
Then you have to click on "Proceed to Payment" and pay the application fee through any of the mentioned get ways. After a successful payment, you will be informed via SMS.
The MDMR application fee is only 1000/-.
Save User ID, Transaction ID, and Password for your records.
BOU MDMR Admission Exam Admit Card Download
You can collect your admit card from 02/12/2021
Go to https://osaps.bou.edu.bd/ and then write User ID, and Password to log in.
Then print your admit card with A4 size paper format
BOU MDMR Admission Circular Notice 2021 Image
To see clearly the admission notice, I have uploaded an image of BOU's MDMR admission circular 2021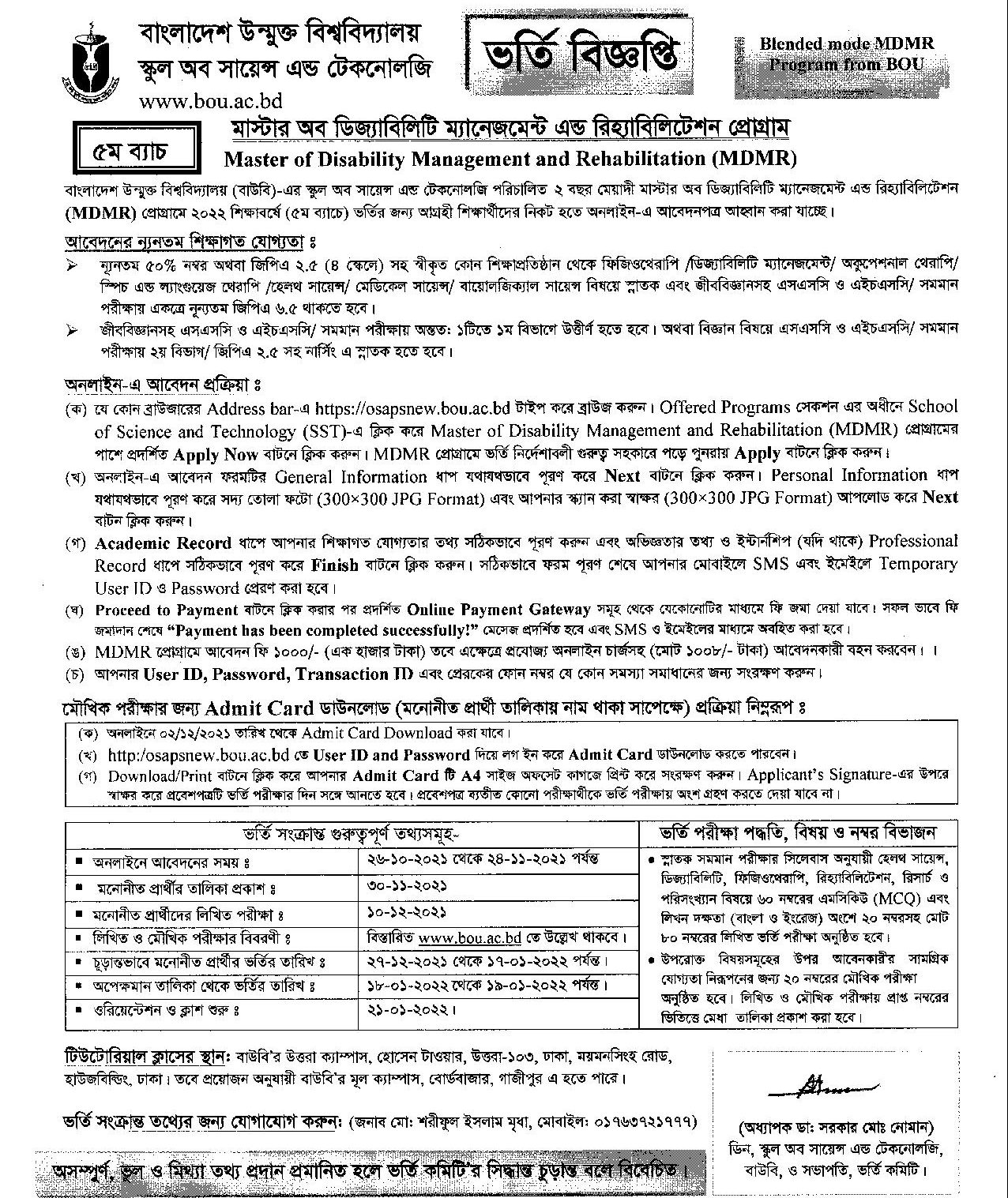 BOU MDMR Admission Circular Notice 2021 PDF
If you want to download this admission notice as a PDF file, you can form it below.
MDMR Admission Selected Candidate For Written & Viva-Voce Test
Master of Disability Management & Rehabilitation (MDMR) admission detailed Information is available here. On 07/01/2022, both of the written and Viva-voce exams will be taken at the School Of Science & Technology, Bangladesh Open University, Main Campus, Board Bazar, Gazipur.
Written Test: 10:00 AM 
Viva Voce: 11:15 AM. 
All are requested to bring main academic documents, Marksheet, and other documents.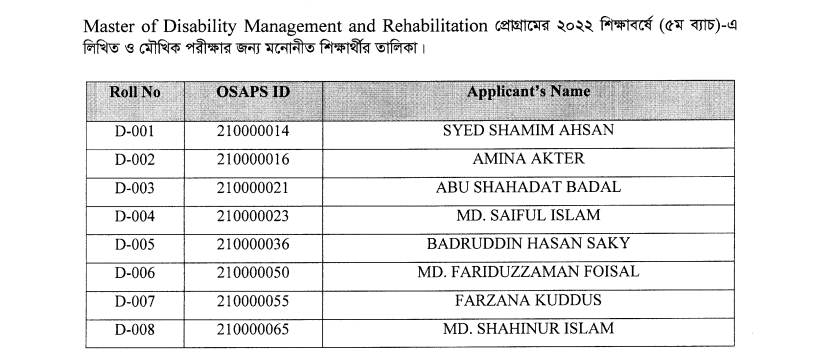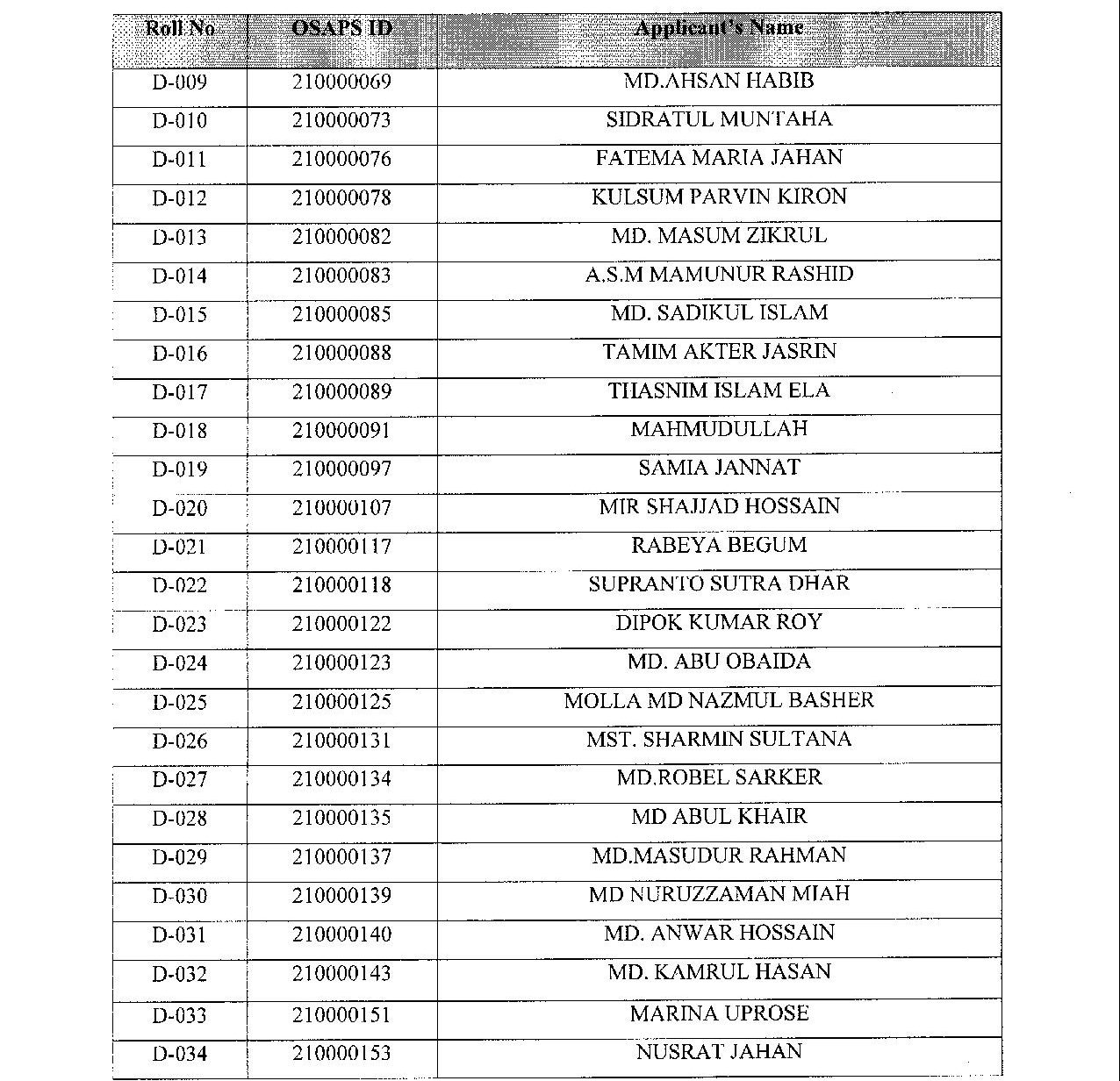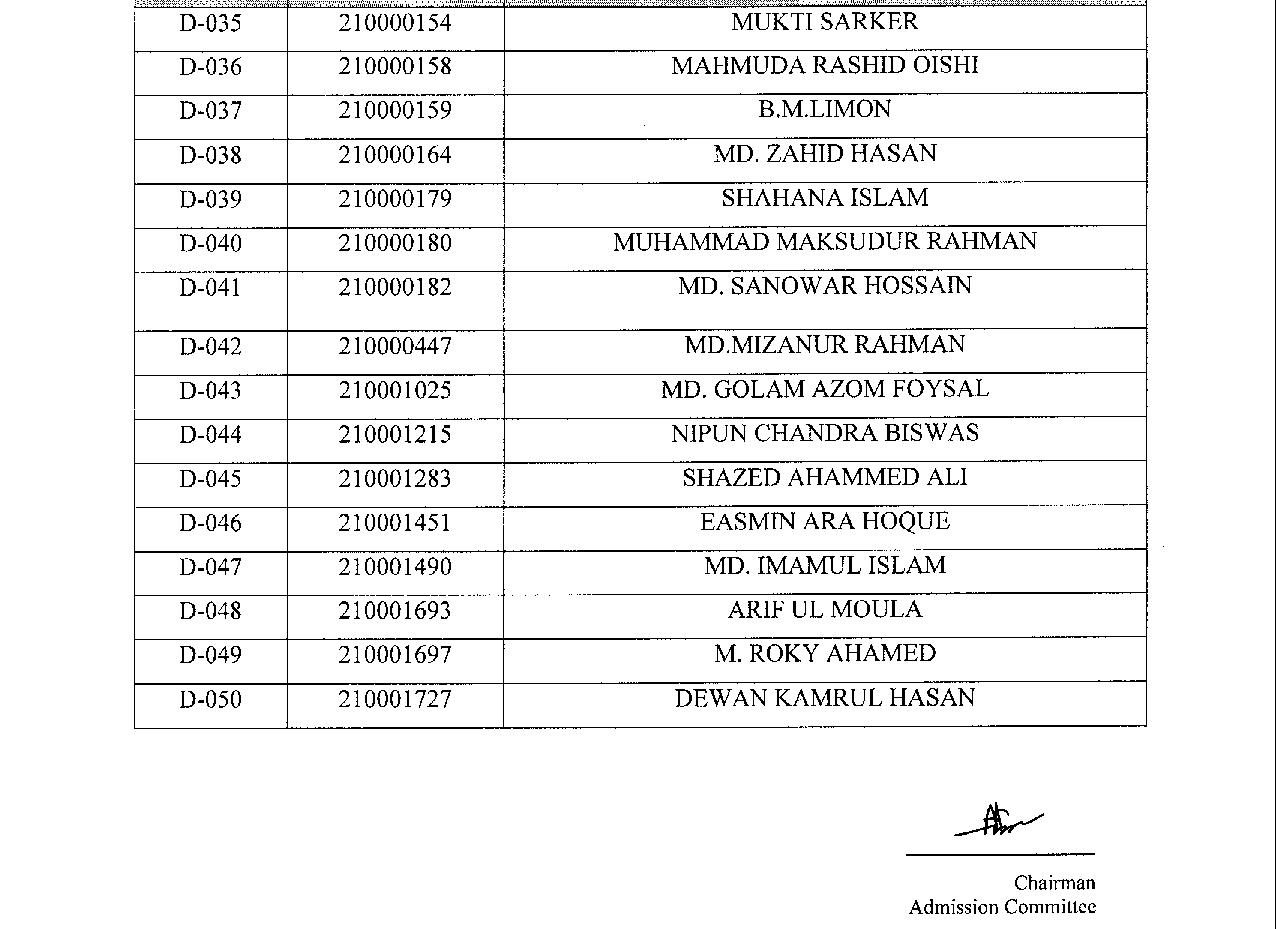 MDMR Admission From Merit & Waiting List 2022
BOU has already been published the MDMR written and viva-voce exam result and based on the tests, BOU is going to take MDMR admission from the merit list. If there is any vacancy after admitting from the merit list, then candidates from the waiting list will be admitted serially.
MDMR Admission Key Information
Admission Date
Admission Website
Admission Fee 
Amount

Admission From Merit List

12/01/2022 to 09/02/2022

Admission From Waiting List

13/02/2022 to 15/02/2022

www.osapsnew.bou.ac.bd
Each Course Registration Fee
16,800/-
Semester Registration Fee
10,000/-
ID card Fee
200/-
Academic Calendar Fee
50/-
Exam Fee
2,100/-
Semester  Marksheet
100/-
In Total =
20,250/-
MDMR Admission Online Application Process
Visit https://osapsnew.bou.ac.bd. 
Then log in with your User ID and Password 
Then the Course Enrollment button will appear.
Then click on Proceed to Payment and pay your payment through any Online Payment Gateway.
After a successful Course Enrollment, download and print Profile & Payment Slip. Submit your Certificate, Mark sheet, Internship, and a set of these papers at your college.
Then the regional officers will verify and give you an ID card.
MDMR Admission Selected Candidate List 2022
Here is the list for the MDMR admission selected candidates on the written and viva-voce tests. If you are one of them then look through your name in the list.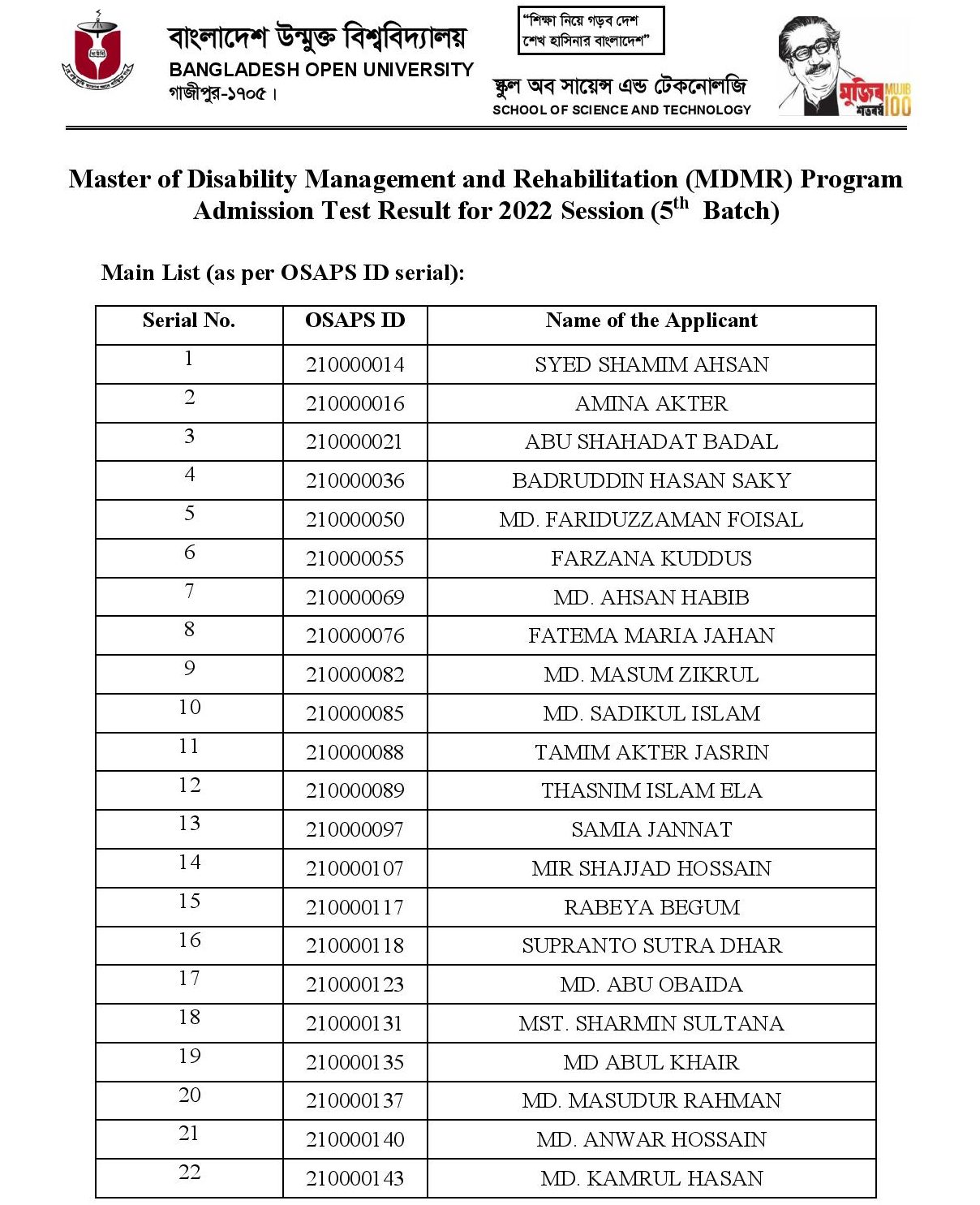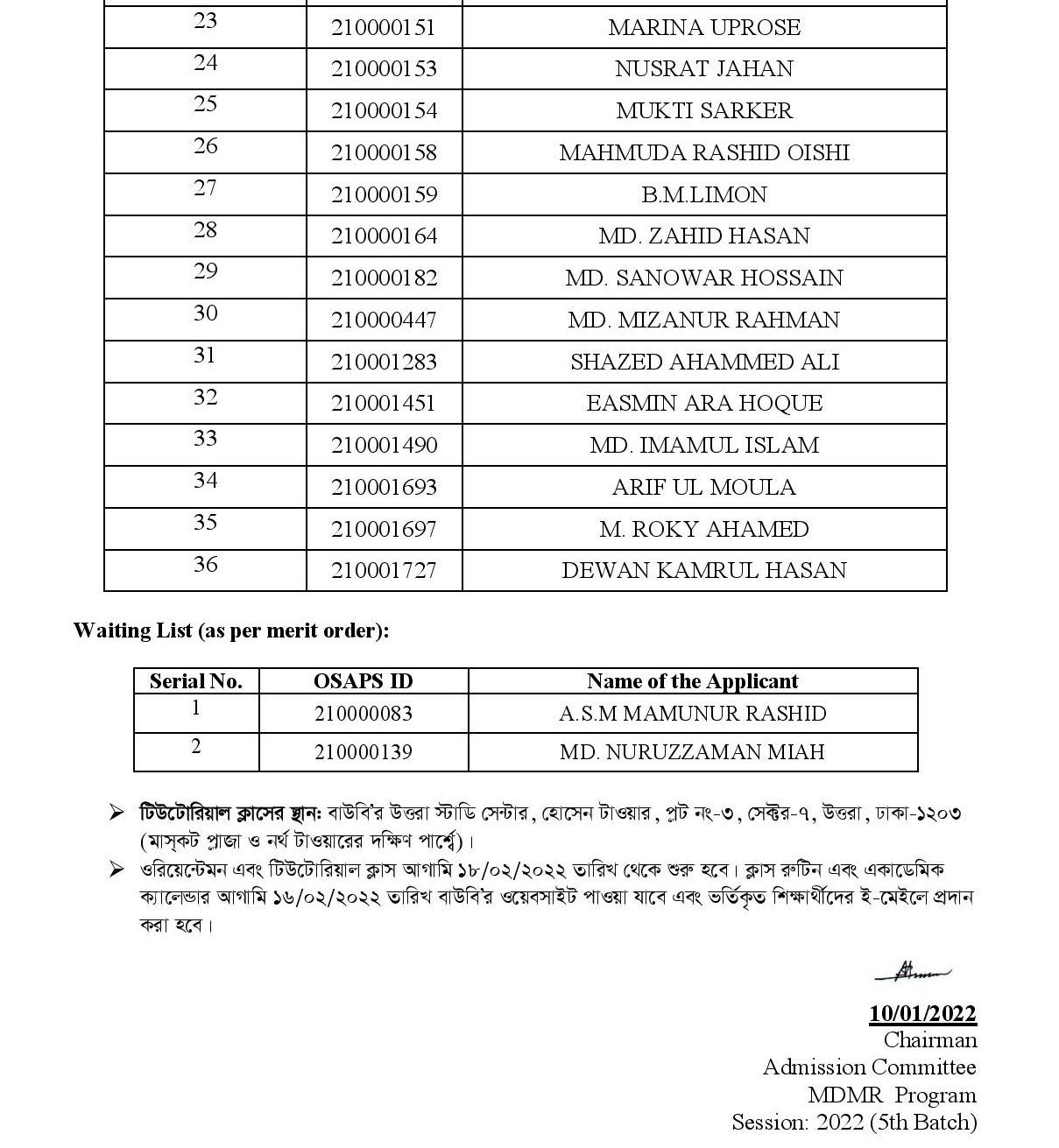 I think you have been benefited from this article and also from our website. If you want to know about Bangladesh Open University's activities. Keep your eyes on this website and never miss any update of the Bangladesh Open University from our website.