BOU's MBA admission circular (Bangla) 2021 has been published recently. The program of Bangladesh Open University under the School of Business admission is going on. It is a two-year course. In this article, I will write about all the information about BOU's MBA admission process.
BOU Master of Business Administration Admission 2020-21
In the 2020-21 ‍season, Bangladesh Open University's MBA Admission Test will be held in March. Students can apply for admission from 28 February 2021 to 15 April 2021. Let's check the following steps for applying for this program.
BOU MBA Admission Requirements For Apply
Requirements for the BOU's MBA admission circular is given here:
A recognized bachelor's degree or equivalent in any discipline.
A minimum of a total of 12 points (academic result+ age).
BOU MBA Admission Detailed Time Plan
BOU's MBA Admission Circular
Online Application submission: 15 April 2021 (Last date).
Viva Voce: 23 & 30 April 2021
Application Selection Date: 18 & 19 April 2021
Merit List Publish: 2 May 2021
Admission Date: 30 May to 16 June 2021
Orientation Class: 26 June 2021
Tutorial Class: 02 July 2021
BOU MBA Admission Circular Notice Download
Bangladesh Open University published their 2 years MBA admission (Bangla) circular notice; read this notice carefully before applying.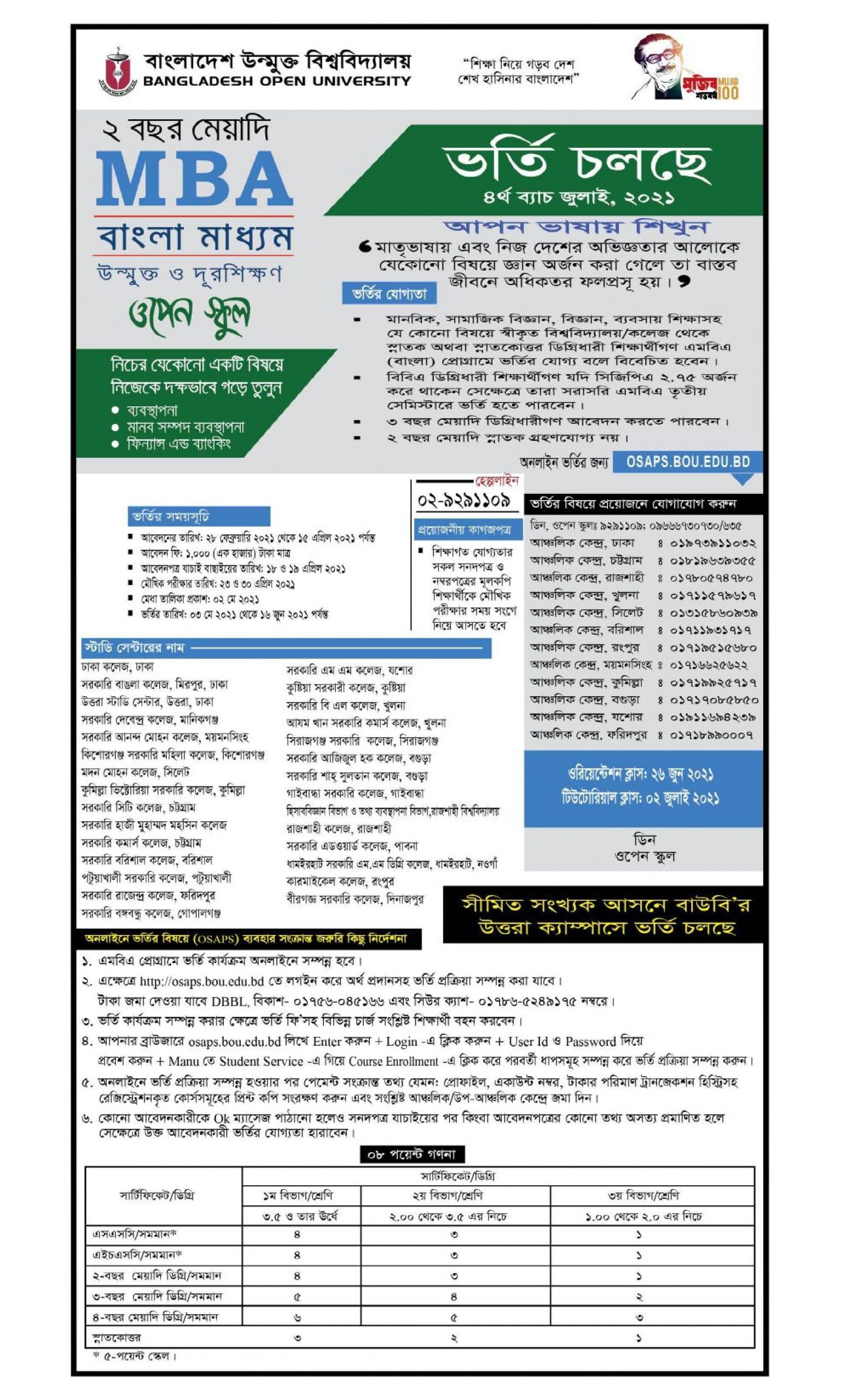 Read Also: Bangladesh Open University BBA Admission Circular
How to apply for BOU MBA Admission 2020-21
Students of any group can apply for this MBA program if they can fulfill the requirements. For applying to follow the step below.

How to Apply Online & Payment Process
login http://osaps.bou.edu.bd the admission process, including paying the fee, will be carrying out. In this case, you have to pay money via DBBL, bkash-01756-045166, and sure cash- 01786-5249175.
Writing osaps.bou.edu.bd on your browser and enter and login into it. Then enter providing the user ID and password. Gong to the menu, click on Course Enrollment, carry out all the activities, and complete the admission.
After completing the admission process, payment-related data like profile, account no, amount of Tk, and transaction history, save the print copy of the registered courses and submit it to the concerned regional/sub-regional center.
The student will be lost his admission qualification though he is sent the OK message if any information becomes wrong after verification.
How to get the Admit Card
Admit Card will be available online after Successful form submission.
Login to osaps.bou.edu.bd. Then type your USER ID & PASSWORD (check your SMS).
Now print your Admit Card.
BOU MBA Admission Circular 4th Batch Extended Date (Bangla Media) 2020-21
Today I will discuss the BOU MBA admission circular extended date (Bangla Media) 4th batch (July 2021) 2020-21. The Bangladesh Open University has revealed this MBA Admission Circular (Bangla Media) for those who want to complete the course. The circular has published on 27/07/2021. Here I have already given all the information given on their website.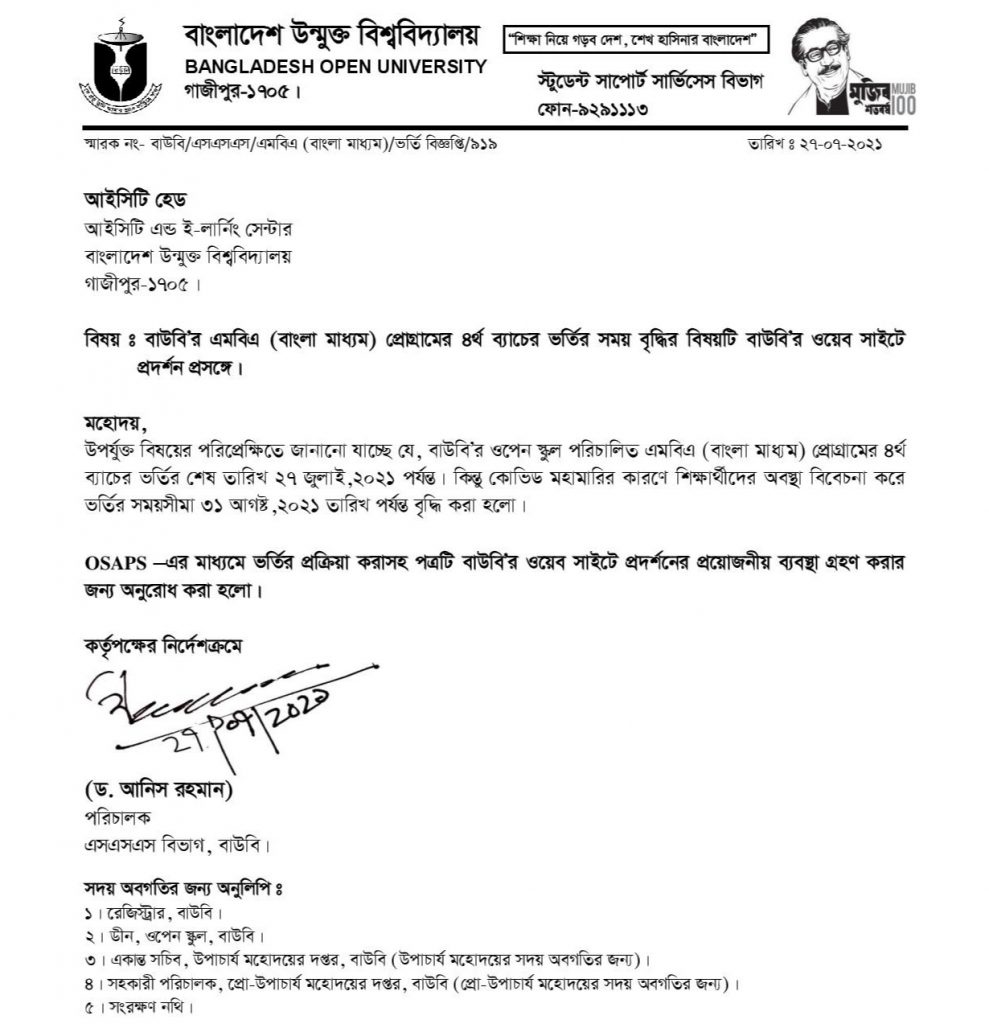 Contract Info of Bangladesh Open University
Available Time: 9:00 am to 1:00 pm; 01635832845, 01705897988, 01907451614
Available Time: 2:00 pm to 6:00 pm; 01635832846, 01907451612, 01705897917
If you have any questions about Bangladesh Open University's MBA admission program, comment on your quote in the comment section and share this post on your social accounts. If you face any problems, let us know. We will try to solve it.