BOU published MA & MSS (Preliminary and Final) examination new schedules of postponed exams (December-2019) on the official website of Bangladesh Open University. The routine publishes on 29 August 2021 on their one site. So it is a very important notice for the students of the program. Now you will be able to get the routine from the official website of BOU and also here. Here I have added the Image and als0 the PDF of MA and MSS routine 2021.
BOU MA & MSS Exam Routine 2021 Image
The authority of Bangladesh Open University has been announced the routine of MA and MSS exam-2021. The schedules contain two exams routine, one is preliminary for the 2nd semester and the other is the Final exam for the 2nd semester. The Exam will be held on 19 February 2021 and ends on 05 March 2021. Check the below Image to know more clearly.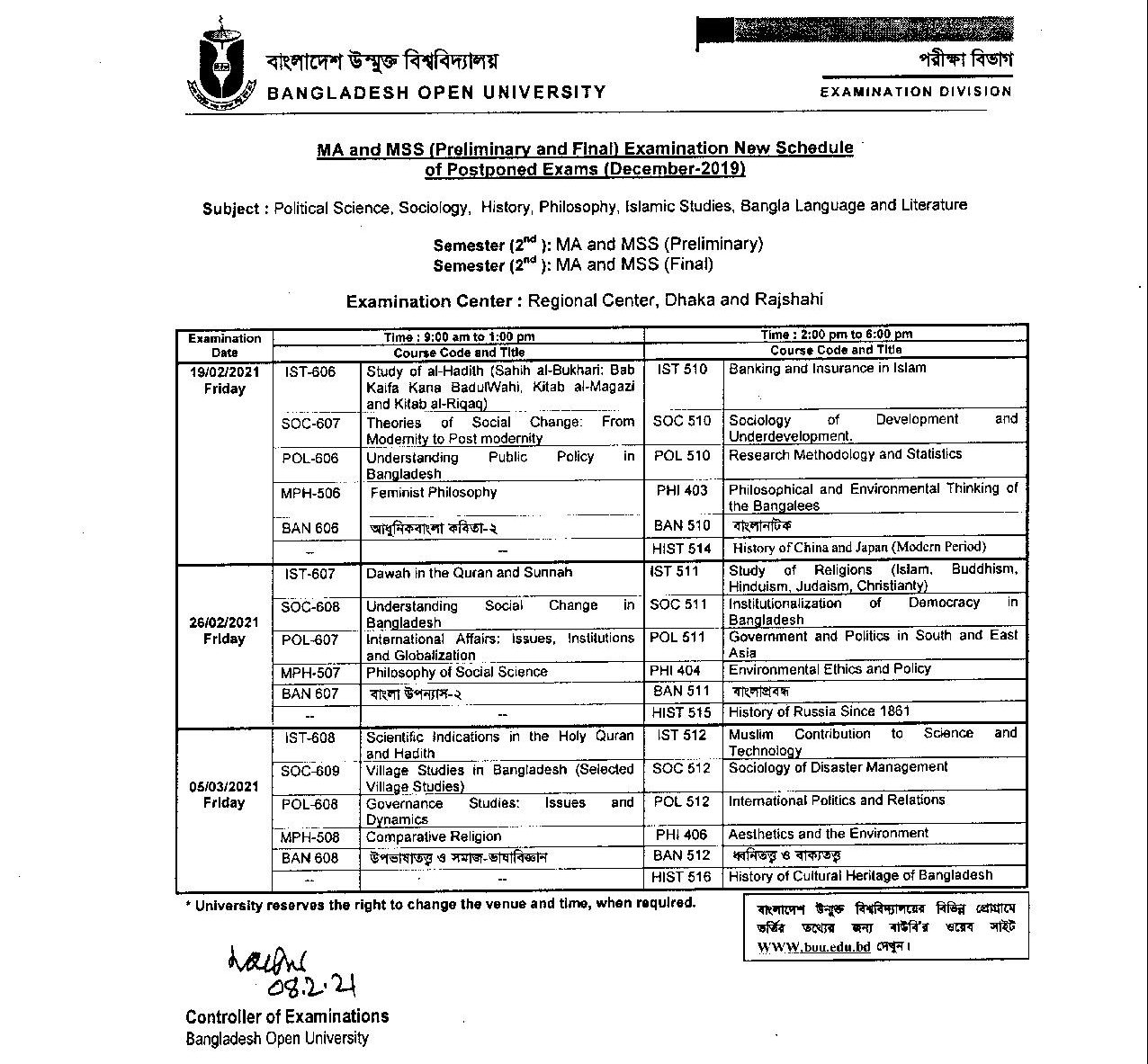 BOU MA MSS Routine 2021 PDF
If you want to be more clear about the BOU's MA/MSS exam routine, you can download a PDF copy of the BOU'MA MSS exam routine 2021 from here. For the above image, you may face difficulty understanding, but if you download the pdf file you will get all the clear images where you can understand everything.  To download click the below link.
Download BOU MA MSS Routine 2021 PDF
To get more information visit Bangladesh Open University
BOU MA/MSS 2nd Semester Preliminary Course Name With Code
PHI 301: Historical of Western Philosophy: Ancient and Medieval period
BAN 507: Ruptottow, Rostottow, Alongkar, Chondo
HIST 511: Research Methodology
PHI 303: Modern Moral Philosophy
BAN 508: Modern Bangla
HIST 512: History of Modern Africa till 1945
PHI 306: Philosophy of science and Technology and policies Issues
BAN 509: Bangla Short stories
HIST 513: History of West Asia (Since 1453)
IST 606: Study of Hadith
SOC 607:Theories of social Change
POL 606: Understanding Public Policy in Bangladesh
MPH 506: Feminist Philosophy
BAN 606: Modern Bangla Poem-2
IST 607: Dawah in the Quran and Sunnah
SOC 608: Understanding Social Change in Bangladesh
POL 607: International Affairs: Issues Instructions and globalization
MPH 507 Philosophy of Social Science
BAN 607: Bangla Novel-2
IST 608: Scientific Indications in the Holy Quran and Health
SOC 609: Village Studies in Bangladesh
POL 608: Governance Studies: Issues and Dynamics.
MPH 508: Comparative Religion
BAN 608: Upovashatottow And Somaj-Vashabiggan.
BOU MA MSS 2nd Semester Final Course Name With Code
IST 507: Study of al-HAdith
SOC 507: Classical Sociological Theory
POL 507: Politics in Pakistan and the Emen=rgence of Bangladesh
IST 508: Principles and history of Hadith literature
SOC 508: Sociology of Deviance and crime
POL 508: Religion, Ethnic Issues, and politics
IST 509: Muslim Personal Law and Law of inheritance
SOC 509: Population and Society
POL 509: Public Administration: Bangladesh perspective
IST 510: Banking and Insurance in Islam
SOC 510: Sociology of Development and Underdevelopment
POL 510: Research Methodology and statistics
PHI 403:Philosophycal and Environmental Thinking of the Bangalees
BAN 510: Bangla Natok
HIST 514: History of China and Japan
IST 511: Study of Religion
SOC 511: Institutionalization of Democracy in Bangladesh
POL 511: Government and politics in South and East Asia
PHI 404: Environmental Ethics and politics
BAN 511: Bangla Probonsho
HIST 515: History of Russia Since 1861
IST 512: Muslim Contribution to Science and Technology
SOC 512: Sociology of Disaster Management
POL 512: International Politics and Relations
PHI 406: Aesthetics and the Environment
BAN512: Dhonitottow and Bakkotottow
HIST 516: History of Culture Heritage of Bangladesh
BA/BSS Program Exam-2020 (June)
Recently BOU has published the exam circular of BA/BSS Program Exam-2020 (June). The notice appeared on the website on 21/09/2021. And I have uploaded the notice to this site without any delay. It is asked on the circular about the exam date is the BA/BSS Program Exam-2020 (June)  exam will start from 09/10/2021.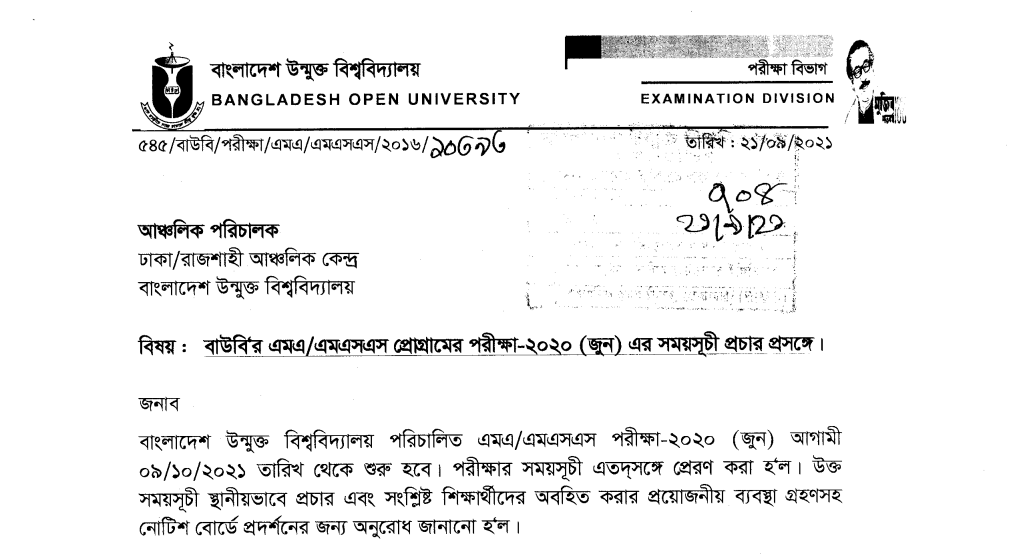 All the information about the BOU's MA/MSS exam routine has been collected from the official website of Bangladesh Open University. I hope you will be benefited from this information. If you find any information that I have not added, please let me know by comment.