Do you want to obtain an MA/MSS degree under BOU and try to admit yourself to this program? Don't worry. There is good news for you. Bangladesh Open University has already published a circular for the MA/MSS program asking for the students who want to study MA/MSS and make a golden future.
So if you are eager to obtain this degree, then this site is the best chance for you to admit to this program. Here I will share with you detailed information about the whole circular. So stay with us till the last.
N.B: The application date for the MA/MSS admission has been increased to 31 August 2022 and the probable admission test date is 23 September 2022. 
BOU MA/MSS Admission Circular 2022
BOU published the circular on their website on 3/04/2022, and as soon as I saw the circular, I uploaded it to this site without any delay. This circular is for the first part of MA/MSS that is only for 1 year. There is a couple of course in this program that will be held in The regional center of the University and the Social Science and Political Science department of the Rajshahi University.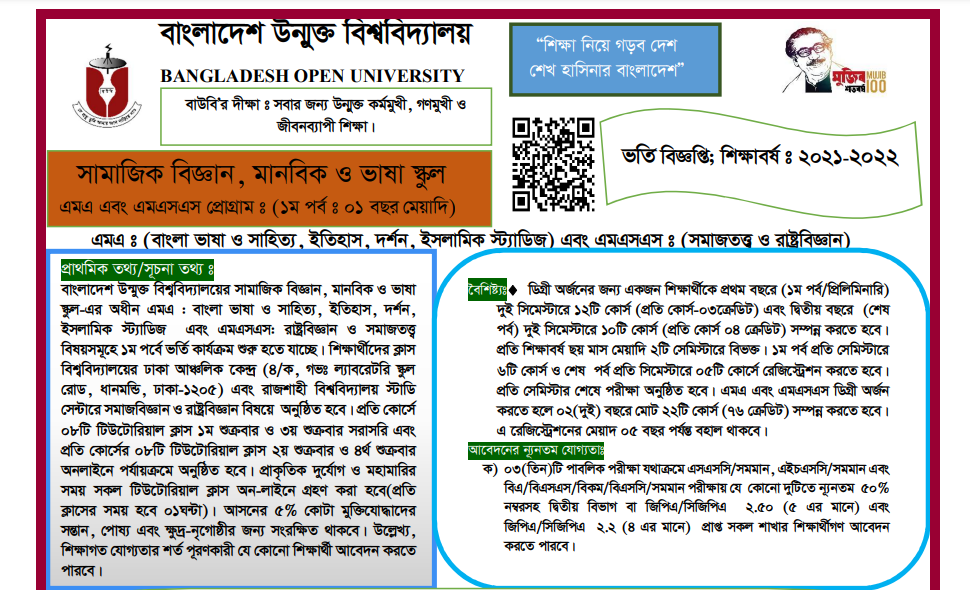 Application Process
If you want to admit yourself to Bangladesh Open University MA & MSS program (First Part: 1-year term), you must apply for the circular. So I have given here a process of application for BOU. Just read the following image and follow the instruction. I hope you will be able to make a proper application to BOU.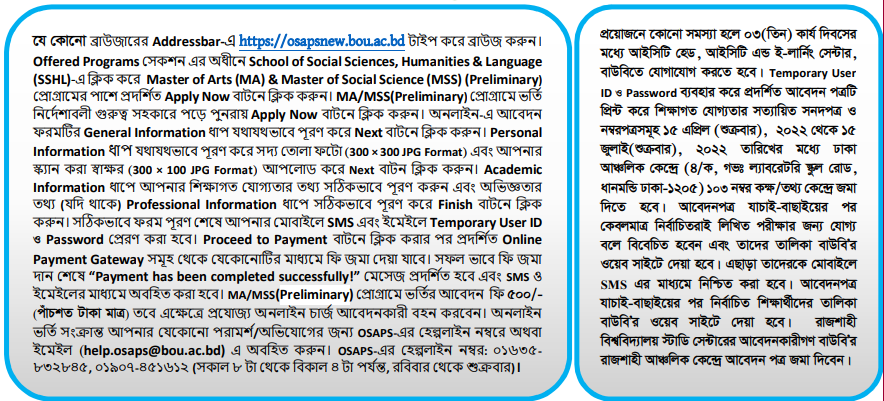 BOU MA/MSS Admission requirements For Apply
Minimum CGPA 2.50 holder or 2nd division holder in Bachelor's or equivalent degree and MA or MSS ( Can apply for Admission)
BOU MA/
MSS

Admission

Detailed 

Time Plan

The detailed time plan for BOU MA/MSS admission circular is here for you:
Duration Of Application Date: 15 April 2022 to 23 November 2022
The list of selected candidates for the written test will publish: on 01/08/2022
Place of written exam: 29/08/2022
Date and time Of the written exam: 07/009/2022
Date of publication of written test results: 07/04/2021 ( Published on BOU's website)
Interview date, time, and place: 20/09/2022,  22/09/2022 and 25/09/2022 Din Office, SSHL, BOU main campus, Gazipur-1705, and 28/09/2022; 09:00 am to 1:00 pm; Rajshahi Regional Center, Nouhata, Rajshahi.
Subject-wise Merit list: 10/10/2022
Admission Date: 13/10/2022 to 13/11/2022
BOU MA/MSS Admission Circular Extended Date 2021
This has been changed several times since the BOU published the admission notification of MA / MSS. Recently, BOU has published another circular informing the re-extending date of the MA/MSS Admission Circular date. It is the latest circular so far. Pay your attention below and note down the information you need.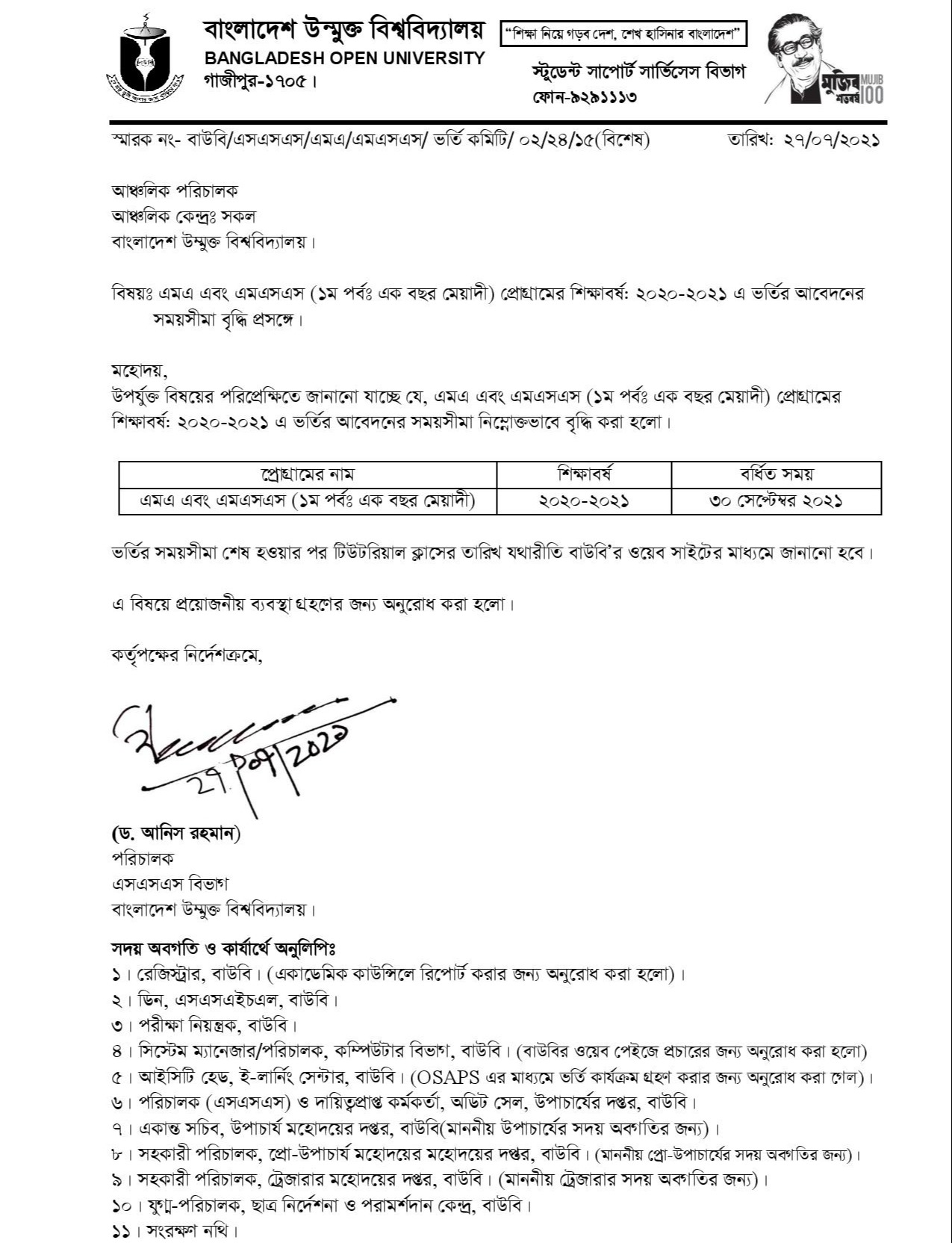 BOU MA/MSS Admission Test Notice
The day of waiting is over. BOU has already published the MA/MSS admission test schedule on its website. The notice was published on 22/09/2021. Here I am going to share with you the detailed information. The exam will begin on 08 October 2021.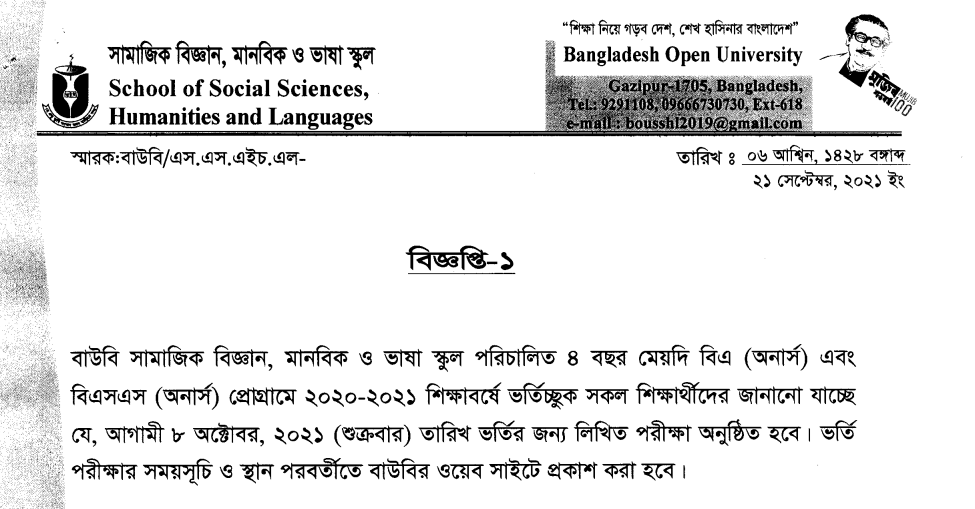 That's all I have for you. As the circular of MA/MSS has already been changed several times, please stay connected with us for the updated information. For any information, visit the site, or you may knock via a comment below.