Bangladesh Open University's authority has been published Master of Education( M.Ed) program's routine-2020. BOU M.Ed exam routine has been published on its official website recently. According to their notice, the exam will start soon. In this article, I have provided with you, Master of Education( M.Ed) program's routine-2020. So, read this article carefully. If you want you can save routine.
BOU M.Ed Routine 2020 Image
Master of Education program of Bangladesh Open University' routine 2020 published on BOU's official website. You can download the routine image from our website. Take a look below: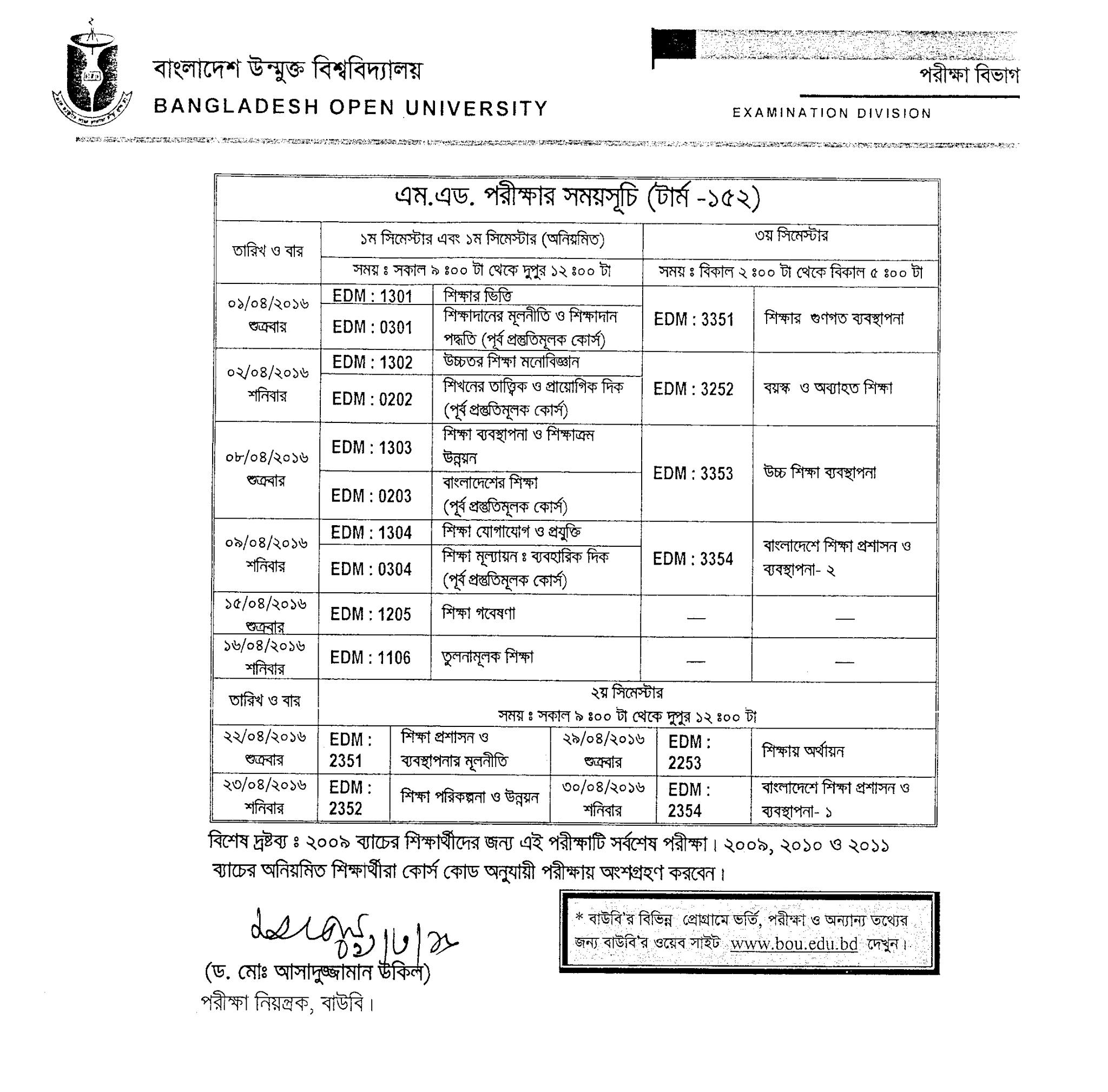 BOU M Ed Routine 2020 PDF
If you want to download M.Ed routine-2020 as a PDF file, you can download it from our website. So, download it from here
BOU M.Ed 1st to 3rd Semester Exam routine 2020 (with course name & code)
M.Ed Course Name & Code (Term-152)
First Semester
EDM:1301- Sikkhar Vitti
EDM:0301- Sikkhadane Mulniti o Poddhoti
EDM:1302- Ucchotor Sikkha Monobiggan
EDM:0202- Sikkhoner Tattik o Proyoger Dik
EDM:1303- Sikkha Bebosthapona o Sikkhkrom Unnoyon
EDM:1304- Sikkha o Jugajug Projugti
EDM:0304- Sikkha Mullan- Beboharik
EDM:1205- Sikkha Gobesona
EDM:1106- Tulunamul Sikkha
2nd Semester
EDM:2351- Sikkha Prosan o Bebosthapona Mulniti
EDM:2352- Sikkha Porikolpona o Unnoyon
EDM:2253- Sikkhai Orthayon
EDM:2354- Bangladeshe Sikkha Prosason o Bebosthapona
3rd Semester
EDM:3351- Sikkhar Gunogot Bebosthapona
EDM:3252- Boyosko O Obbahoto Sikkha
EDM:3353- Uccho Sikkha Bebosthaona
EDM:3354- Bangladesh Sikkha Prosason o Bebosthapona-2
Generally, we provide all academic information of Bangladesh Open University. If you are a student of the Bangladesh Open University, Stay with us for further information. Tell your friend about us.