Bangladesh Open University's HSC Exam Routine has been published. The examinees students have been waiting for BOU's HSC Exam Routine for so long. The exam will start from 26 December 2021 to 30 January 2022. We have collected this BOU's HSC Exam Routine and want to share it with everyone with image and pdf versions. Read this article and download your exam routine from below.
BOU HSC Exam Routine 2021 (Revised)
Here is the BOU HSC Exam Routine 2021 (Revised) exam routine. This is the revised exam routine, and here two subjects have to be changed: Politics and another in Economics. Politics was the first, and Economics was the last exam in the previous circular, but in this circular, Economics is the first, and Politics is the latest subject.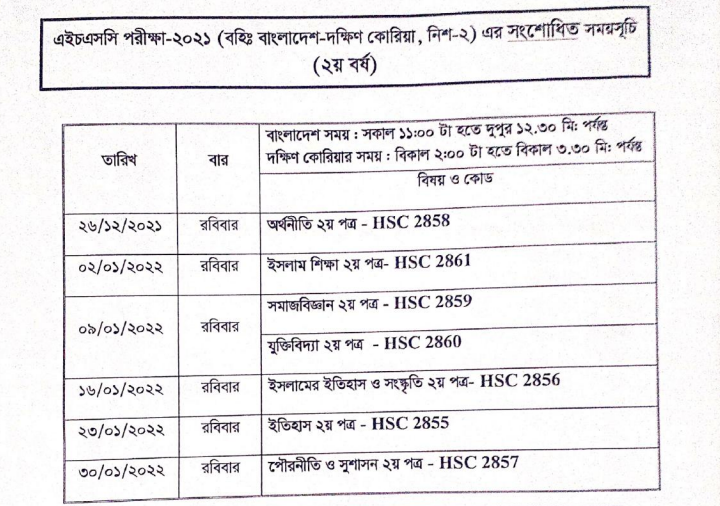 BOU HSC Exam Routine PDF
We have collected a PDF version of the BOU's HSC Exam Routine. Sometimes the image does not show well. ‍Some lines may be shown as unclear. So, we provide you with the official pdf link of Bangladesh Open University. If you need the PDF version, download it by clicking the link below.
Download BOU HSC Exam Routine 2021 PDF
Important Notice For BOU HSC Student
2021
No one will be able to enter the exam center 30 minutes after the examination.
Students are not allowed to carry and use mobile phones during the examination.
The exam hall cannot be left within 1.00 hours of the start of the examination.
No student will be able to take the exam without an identity card.
Students should contact their respective study centers to find out where the exam center will be held.
The practical examination schedule will be known from the respective test centers.
The practical examination will be completed by 30/01/2022.
Read Also: Bangladesh Open University SSC Result
You will get the latest updates on Bangladesh Open University from this website. So stay with us.