BOU CSE Exam Result has published recently. If you are a student in the Computer Science Department, I am sure you are waiting for the result of the Computer Science & Technology(CSE) department of Bangladesh Open University. The B.Sc. in Computer Science and Engineering (CSE) program is designed to produce skilled graduates in the field to satisfy the growing demands of computer engineers at home and abroad. It provides the learners an opportunity to obtain a broad knowledge of Computer Science, Computer Engineering with some freedom to tailor the program according to the learner's individual needs.
Bangladesh Open University CSE Exam Result 2020
Your waiting is now over. Bangladesh Open University has been published. The  CSE department's result has been published on the 18th March 2020 on Bangladesh Open University's official website. In this article, I will show you, how you can get your Computer Science Engineering Department's results. So let's start.
Check BOU CSE Exam Result Online
Two systems are available for checking your BOU's result. The online system is one of them. It is not so hard. It is a very system. Just you have to connect with the internet by mobile or computer. Take a look below
First of all, Go to the BOU website: https://www.bou.ac.bd/result.php
Then Select your Program.
Select the M.Ed program.
You will see a box below and then write your Student ID here.
Finally, Click on "View Result"

For your convenience, I have uploaded an image, see it below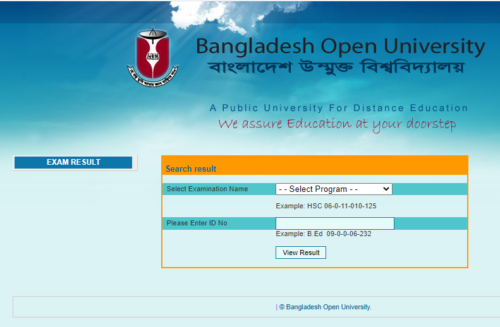 Semester-Wise CSE Exam Result Check
On 18th March 2020, Bangladesh Open University has published Computer Science & Engineering (CSE) department's result. In fact, it is the result of the 4th-year 2nd semester. For your convenience, I have uploaded the 4th-year 2nd semester's result. See it below.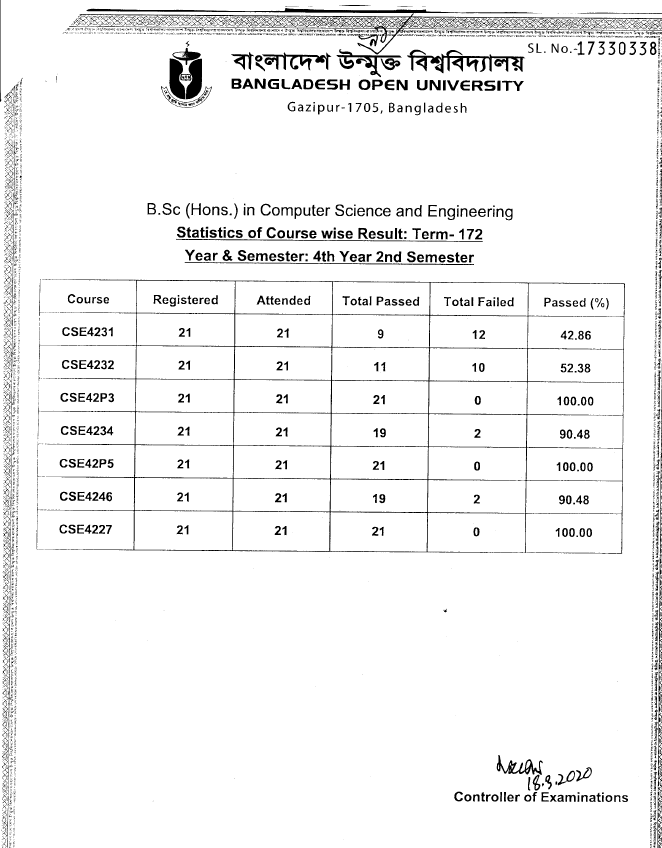 BOU CSE Exam Result PDF file download
If you want to download it as a PDF file, You can it from our website. Click below to download it
BOU CSE Exam Result Through SMS
It is a very easy system to get your result. You need a phone with a sim card. You can also check your result by short message service(SMS).
Enter the message option on your phone.
Type BOU<space>
After space, type your Student ID.
Send the message to 2777.
Example: BOU 08010012237
After sending the message, you will receive an SMS with your result.
On this website, we provide a lot of information about Bangladesh Open University's academic activities. I think you have already benefited from this post. Tell your friend about us. Thank you so much for visiting our website.