BOU Commonwealth Executive MBA/MPA Admission Circular 2021: Commonwealth Executive MBA/MPA  is one of the unique programs in Bangladesh. So there is a great demand for the program. Recently, Bangladesh Open University has started these CEMBA and CEMPA programs.
So if you are interested in getting this degree under the Bangladesh Open University, keep reading and collecting information. You will get here the pdf file of the circular.
Commonwealth Executive MBA/MPA Admission Circular 2021
BOU Commonwealth Executive MBA/MPA Admission Circular 2021 is available here. This CEMBA and CEMPA program, semester- 192 admission circular is from BOU School of Business in association with the commonwealth of learning, Vancouver, Canada. The notice was published on 26/10/2021. To get detailed information, you may visit https://osapsnew.bou.ac.bd. 
Online Applications will continue from 31 October 2021 to 30 December 2021.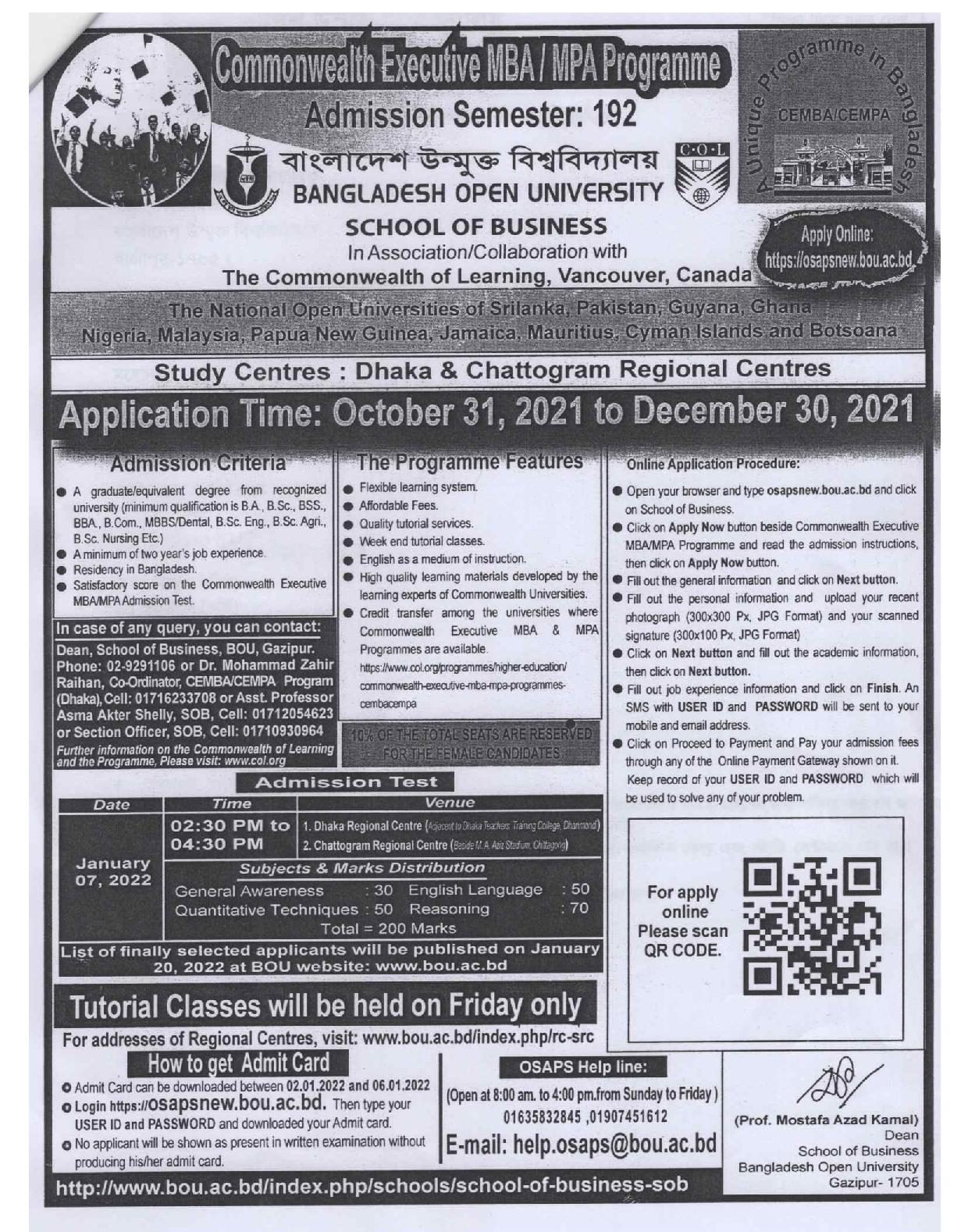 Online Application Process
First, Visit https://osapsnew.bou.ac.bd. And click on School of Business.
Click on "Apply Now" beside the Commonwealth Executive MBA (CEMBA/CEMPA) and keep reading and again click on "Apply Now."
Then fill out the General Information and then Personal Information. Upload your (300×300) photographs and signature (300×100).
Then complete your academic information and job experience.
Completing all, you will get an SMS with User ID and Password.
Click on Proceed to Payment and pay your fee through any gateway.
CEMBA/CEMPA Admission Criteria
There are two study centers of the CEMBA/CEMPA programs in Bangladesh; Dhaka & Chittagong Regional Centers.
Candidates must possess B.A, BSS, BBA, B.Sc, B.Com, MBBS/Dental, B.Sc Eng/Agri/Nursing, etc., from a recognized university.
Two years of job experience.
Candidates must obtain a satisfactory score in the MEMBA/MEMPA admission test.
Download Admit Card
The admit card will be available from 02/01/2022 to 06/01/2022. 
Provide User ID and Password.
Admission Date
Date 

Time 

Venue

7 January 2022
2.30 pm to 4.00 pm
Dhaka Regional Center
Chittagong Regional Center

Subjects & Marks Distribution

General Awareness: 30                       English Language: 50
Quantitive Techniques: 50    Reasoning: 70
Total Marks: 200

List of Finally Selected Applicants Will Be Published On 20 January 2022 at the www.bou.ac.bd
CEMBA/CEMPA Admission Instructions
That's what I have for the circular. I hope you will get all the information after reading the article. If you need more information, then leave a comment below.