The Bangladesh Open University's authority has been published 1st, 2nd, and 3rd-year BOU's BBS exam routine of 2020 sessions. The Exam routine has published on the official website of Bangladesh Open University. According to their notice, the exam will start from 19th April 2020. Here I have brought the information about the BOU's BBS exam 2020. If the article will helpful for you, read it properly.
BOU BBS Exam Routine 2020 Image
Here you will find an Image of the BBS exam routine-2020 for 2018 session. Have a look.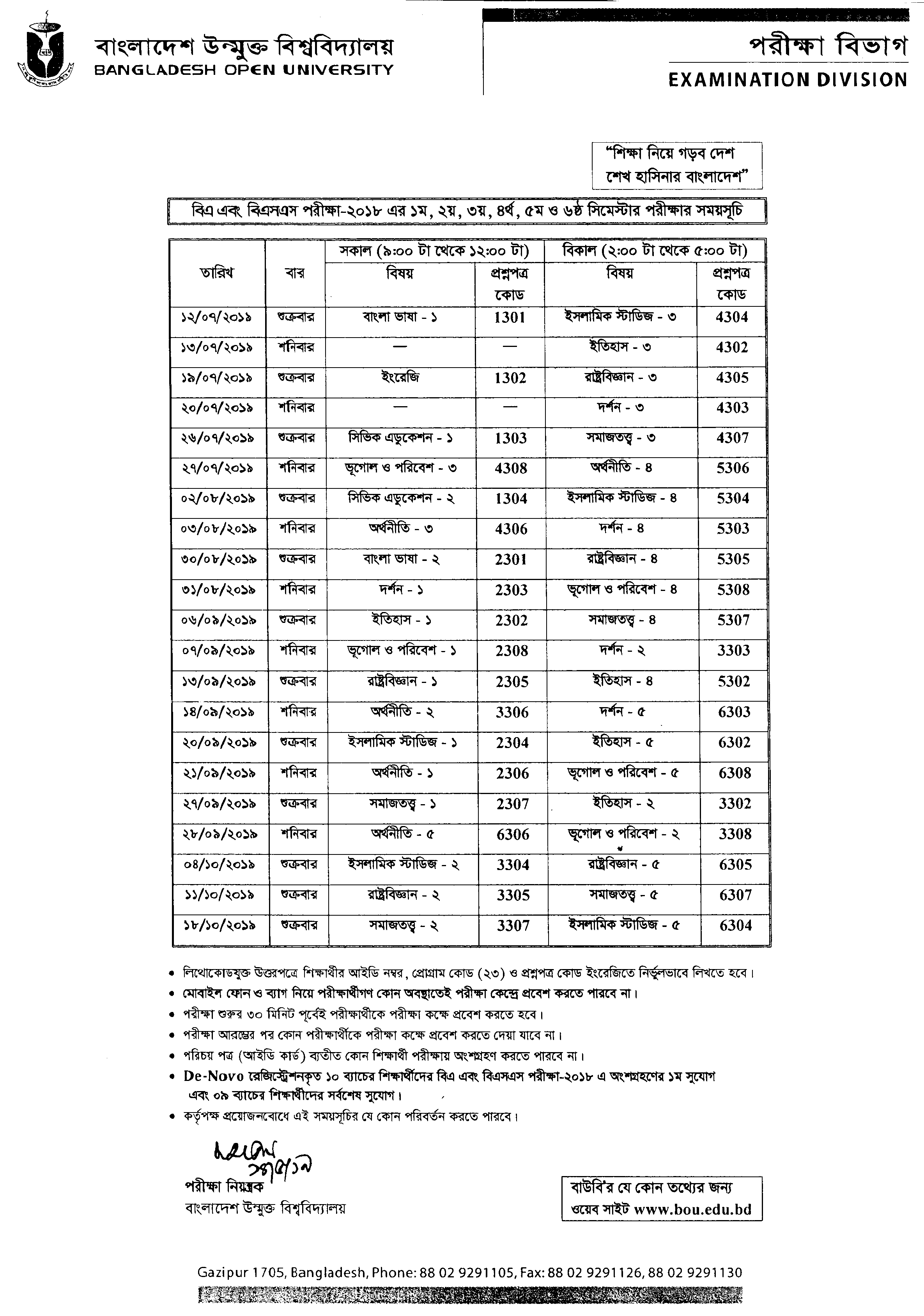 BOU BBS Exam Routine PDF
If you want to download the BBS Exam routine, you can it from below. I have added the PDF download, try it out.
Download BOU BBS Exam Routine PDF 2020
BOU BA And BBS 1st-6th Semester Course Name And Code
Bangla Vasha-1: 1301
English: 1302
Civic Education-1: 1303
Geography and Environment-2: 4308
Economics-3: 4306
Bangla Vasha-2: 2301
Philosophy-1: 2303
Geography and Environment-1: 2308
Political science-1: 2305
Economics-2: 3306
Islamic Studies-1: 2304
Economics-1: 2306
Sociology-1: 2307
Economics-5: 6306
Islamic Studies-2: 3304
Political science-2: 3305
Sociology-2: 3307
Islamic Studies-3: 4304
History-3: 4302
Political science-3:  4305
Philosophy-3: 4303
Sociology-3: 4307
Economics:-4: 5306
Islamic Studies-4: 5304
Philosophy-5303
Political Science-4: 5305
Geography and Environment-4: 5308
Sociology-4: 5307
Philosophy-2: 3303
History-4: 5302
Philosophy-5; 6303
History-5: 6302
Geography and Environment-5: 6308
History-2: 3302
Geography and Environment-2: 3308
Political Science-5: 6305
Sociology-5: 6307
Islamic Studies-5: 6304
If you have anything else to know, please leave a comment. Read about: Bangladesh Open University B.Ed Admission Circular 2020 from our website.