The Bachelor of Business Administration (BBA) Program is one of the most valuable bachelor's programs at Bangladesh Open University. It is 4 hours of durable bachelor's program. Many students wait to admit this program. Since 2007, the BBA program has been being offered to provide students with an understanding of the functioning of business from a theoretical, practical, and managerial perspective. In this article, I have provided the result information of the Bachelor of Business Administration (BBA) Program under Bangladesh Open University.
BOU BBA Exam Result 2020
At this moment, many students are waiting for their result of the Bachelor of Business Administration (BBA) Program. The BBA degree is offered with a choice of majors in Accounting & Information Systems, Finance, Human Resource Management, and Marketing. The core courses develop the foundation in the business area; the general education courses broaden their knowledge base in other areas. The major courses provide students with in-depth knowledge in the area in which the student specializes. In this article, You will know the result notice and how you will get the result.
BOU Bachelor of Business Administration Result Publish Date
Bangladesh Open University has been published its Bachelor of Business Administration (BBA) Program's result-2020 on its official website. Here, I have written the result publication date. On 01 August 2020, the result was published.
How To Check BOU BBA Result Online
The online result system is very popular for the students. It is also an easy method to get results. Just you have to connect the internet with your phone or computer. Then follow the steps
Firstly, go to this website https://www.bou.edu.bd/ from your phone/computer.
Select your program MA/MSS
Then write your student id
Click the button "View Result"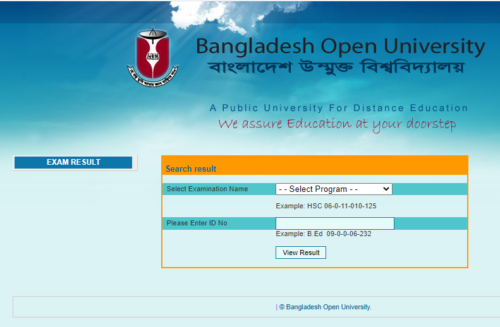 Check BOU BBA Result By Mobile SMS
It is a very easy method to get your result. You can check your BBA result-2020 by SMS. Only you need a phone with any operator's sim card. To get the result by SMS follow the step
First of all, go to the message option on your phone.
Type BOU(Space) student id
Then send the message to 2777 number
Example: BOU 08010012237
After sending your message successfully, you will receive a message with your desired result.
Bangladesh Open University BBA Exam Result Notice 2020
I have also uploaded Bangladesh Open University's BBA exam official notice 2020. Have a look below to see the official BBA exam result official notice of BOU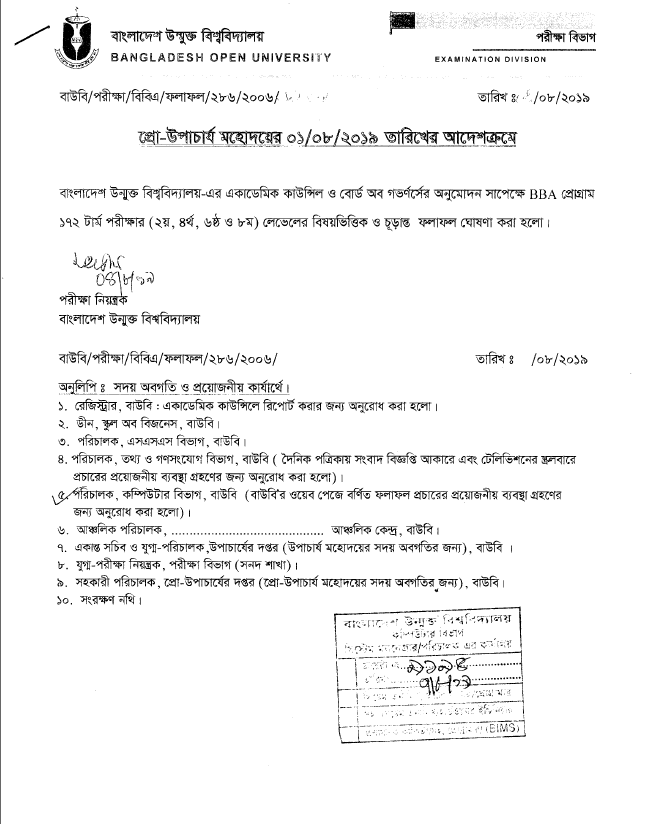 N.B: When BOU will publish the latest notice on their website after that BBA exam result 2020 will be uploaded on our website.
If you face any problem let us know by your comment. We will help you as soon as possible. Tell your friend about our website. Share this post into your social media account.