BOU BA/BSS exam routine has been published on 06/09/2021. The exam was supposed to take a long time ago but unfortunately, the exam was somehow postponed. Presently BOU authority has published the exam routine again. The exam will start from 24th September 2021 to 8th January 2022 and it is the exam of  BA/BSS 2019 examination for the 1st, 2nd, 3rd, 4th, 5th, and 6th semesters. In this article, I have tried to provide all of the above semesters' routines of the BOU's BA/BSS Exam for 2021.
BOU BA/BSS Exam Routine 2021 Image
We have collected the image version of the BOU's BA/BSS Exam Routine 2021 of the BA & BSS course. I have attested here an image here of the circular published on the BOU website. Once the circular is polished on the BOU website I have uploaded it to this site without any delay. On the image, you will get detailed information about the exam. If you want to get the pdf file of the notice then you will get it below.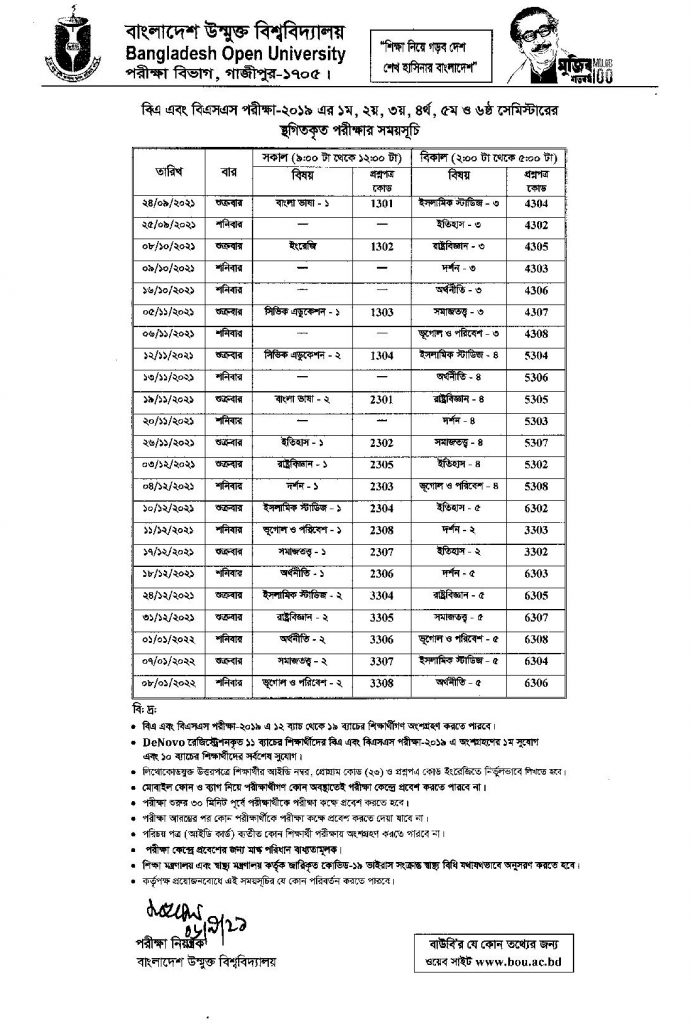 Read Also: Bangladesh Open University SSC Result
BOU BA/BSS Exam Routine 2021 PDF
We have collected a PDF version of the BOU's BA/BSS Exam Routine. Sometimes the image does not show well. ‍Some lines may be shown as unclear. So, we have provided you with the official PDF link of Bangladesh Open University. If you need the PDF version, download BOU's BA/BSS Exam Routine by clicking the link below. To get more information visit bou.ac.bd
Important Notice For BOU BA/BSS Student 2021
30mins delay is not acceptable, and one will be able to enter the exam center after starting the exam.
Students are not allowed to carry and use mobile phones during the examination.
The exam hall cannot be left within 1.00 hours of the start of the examination.
No student will be able to take the exam without an identity card.
The authority can make the change of the routine scheduled.
Keep remember this routine and attend the exam properly. Stay with us for any updates on Bangladesh Open University. Thank you for visiting our website.