Bogura is the entrance to the northern part of Bangladesh, and it is one of the most attractive and favorable places for the students. So they come to Bogura from around the country for quality and available education.
Most of the time, students ask where we can study at the Bangladesh Open University in Bogura, and there are hundreds of such a type of questions the students that makes clear that most of the students of this territory don't know about the Bogura regional center and sub-regional centers of Bangladesh Open University.
So in this article, I will clarify what schools and colleges offer the programs of Bangladesh Open University. Here I have listed all the program-wise institution names. Keep reading and know more about the BOU Bogra religion and sub-religion centers.
BOU Bogura Regional Center
Bangladesh Open University also has a regional center in Bogura, a northern city in Bangladesh. Bogra is one of the important places that are a few steps ahead of almost everyone in education. But the problem is that most students of the northern part are not aware of and almost don't know about the Bogura regional centers of BOU, and this is why I am here to clarify it. I am here with huge information.
Right now, there is a total of 29,000 students, and a total number of tutors of 1395 in these sub-regional centers and almost 12 programs running in 128 study centers and SSC, HSC, BA/BSS, BBA, BEd, MEd, CED, BAgEd, CPFP, CLP, DYDW, and CALP programs are available.
Bogura Sub-Regional Centers
Bogura region center has four sub-regional centers named Bogura (RC), Joypurhat, Gaibandha, and Sirajgonj. In the following table, you will get the code no of these following sub-regional centers.
| | |
| --- | --- |
| Center Name | Center Code |
| Bogura (RC) | 86 |
| Joypurhat | 33 |
| Gaibandha | 29 |
| Sirajgonj | 31 |
Bogura Program Wise Schools and Colleges
From the Bogura regional center, Bangladesh Open University has introduced SSC, HSC, BA/BSS, BBA, BEd, MEd, CED, BAgEd, CPFP, CLP, DYDW, and CALP programs so long. Here I will share all the school and college names that provide all these programs with you. So let's go.
Secondary School Certificate (SSC)/ Higher School Certificate (HSC) & Others
Secondary School Certificate Simply SSC and Higher School Certificate called HSC are currently the most required and compulsory programs for all students in this country. But hundreds of children are out of school and deprived of academic education.
For them, BOU has introduced the SSC & HSC program in about all the schools under the Bogura religion. Here is the list of the schools that provide the SSC & HSC programs of BOU.
From here, you only know where you can study SSC and HSC programs in Bogura and what institute offers these programs under the Bangladesh Open University. So keep your focus on the list below.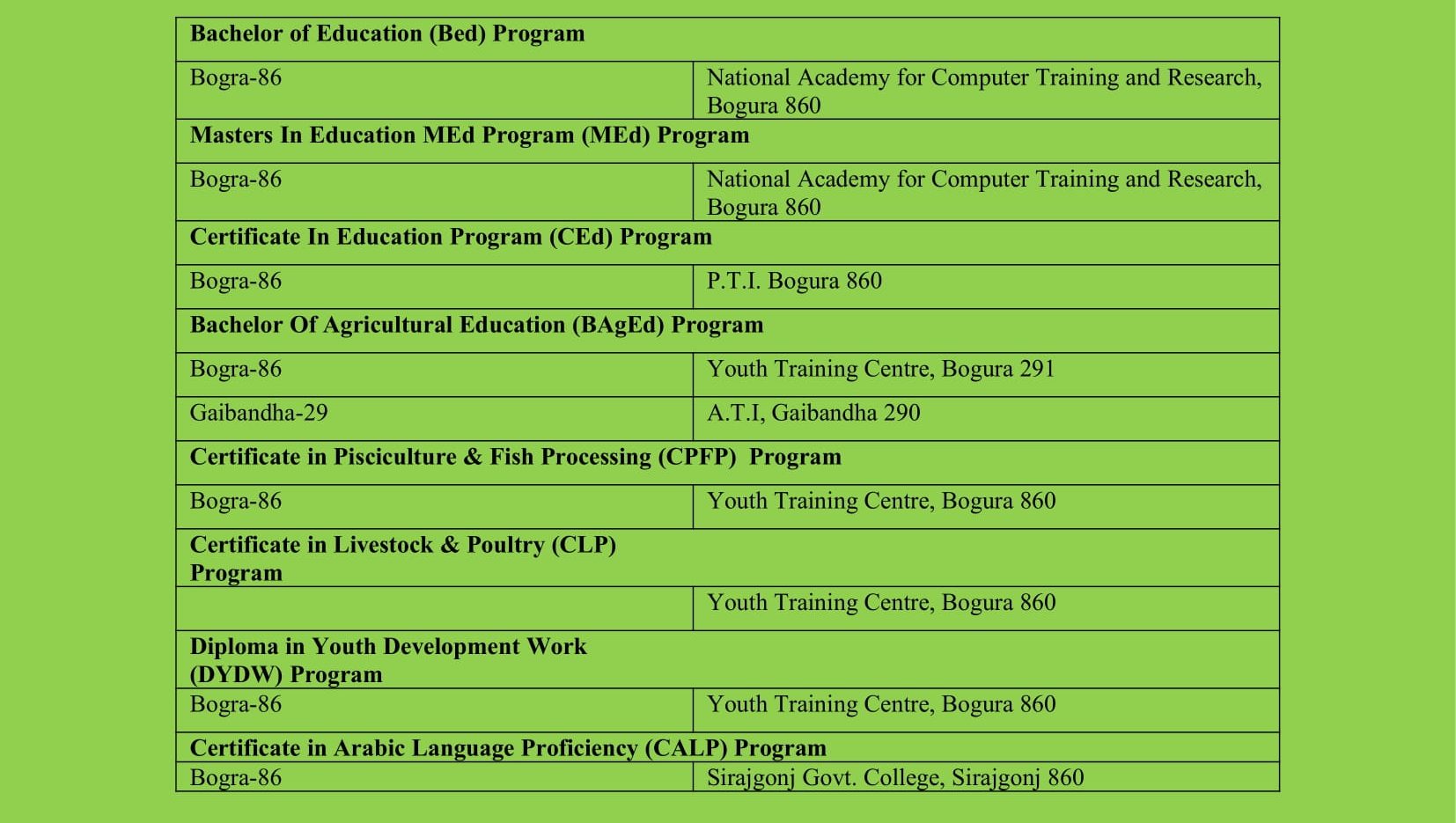 Bogura Regional Center Address
If you want to get the Bogura regional center address, this information is for you. Here you will get detailed information about it.
Address: Regional Centre, Bogura, BOU,  Bishwa Road, Banani (Near BADC Workshop), Bogra.
Contact: Regional Director
Phone:051-62794
E-mail: [email protected]
Bangladesh Open University Regional Centers (RCs/SRCs)
Bangladesh Open University Rangpur Regional Center
That's all I have for you. First of all, select a course you want to study and find out the institutions where the course is available. If you have any questions, you may send a comment below. For more, visit bou.ac.bd.