Bangladesh Open University's MBA exam routine 182 terms (2nd & 4th Level) has been published, recently. In this post, we have included the MBA exam (182 terms). The exam will start from 26 February 2021 to 09 April 2021. So if you are one of the students of the course then read the whole article carefully and collect all the information that you need.
BOU MBA Exam Routine 2021 Image
I want to inform you that BOU has already revealed the MBA exam routine 182 terms (2nd & 4th Level) on their website on 11 February 2021. The image of the BOU's MBA exam routine is available on our site and also from BOU's official website. Download your  MBA exam routine of Bangladesh Open University from below.
BOU BBA Exam Routine PDF
We have collected a PDF of the Bangladesh Open University's MBA exam routine. If you need the PDF version of the Bangladesh Open University's MBA Exam Routine, download it from the link below.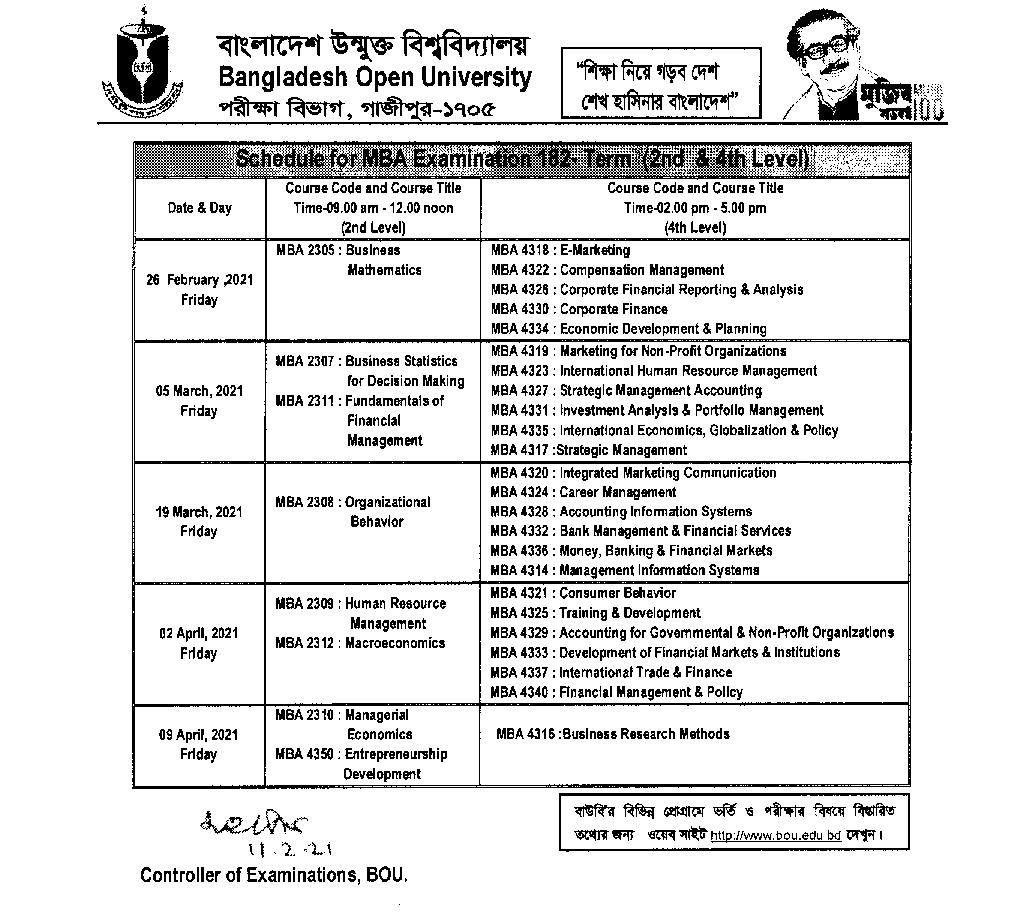 MBA Schedule (2nd Level)
MBA 2305: Business Mathematics
MBA 2307: Business Statistics for Decision Making
MBA 2311: Fundamentals of Financial Management
MBA 2308: Organisational Behaviour
MBA 2309: Humane Resource Management
MBA 2312: Microeconomics
MBA 2310: Managerial Economics
MBA 2350: Entrepreneurship Development
MBA Schedule (4th Level)
MBA 4318: E-marketing
MBA 4322: Compensation Management
MBA 4326: Corporate Financial Reporting And Analysis
MBA 4330: Corporate Finance
MBA 4334: Economic developing & Planing
MBA 4319: Marketing For Non- Profit Organisation
MBA 4323: International Humane Resource Management
MBA 4327: Strategic Management Accounting
MBA 4331: Investment Analysis & Portfolio Management
MBA 4335: International Economics, Globalization & Policy
MBA 4317: Stratagic Manegement
MBA 4320: Integrated Marketing Communication
MBA 43: Carrer Management
MBA 4328: Accounting Information system
MBA 43: Bank Management & Financial Services
MBA 4336: Money, Banking & Financial Markets
MBA 4314: Management Information System
MBA 4321: Consumer Behaviour
MBA 4325: Training & Development
MBA 4329: Accounting For Government & Non-Profit Organization
MBA 4333: Development Of Financial Markets & Institutes
MBA 4337: International Trade & Finance
MBA 4340: Financial Management & policy
Download BOU MBA Exam Routine 2021 PDF 
Read Also: Bangladesh Open University HSC Routine
If you think, this article is helpful for you. Please share it on your social media accounts and if you have any questions about the Bangladesh Open University's MBA exam routine, leave a comment below.