Bangladesh Open University Degree Admission Circular 2021: A great opportunity has come to your hand. Three years of the durable BA (pass), BSS admission circular-2021 has been published by Bangladesh Open University. BOU's degree program is mainly known as the BA/BSS program. This is the most awaiting news for candidate those who are interested to admit Bangladesh Open University. Many students want to graduate from Bangladesh Open University with this degree for its advantages. This program operates by faculty of social science, Humanities faculty, and faculty of languages of Bangladesh Open University.
BOU Degree (BA/BSS) Admission Notice 
For application in 3 years durable B.A, B.S.S program, you should read our full article and also see the Admission notice of Bangladesh Open University. Here I am trying to give you full admission notice of this B.A, B.S.S program. This circular has published on 27/12/2020 on the BOU's website. So if you want to obtain this degree then keep reading the circular from top to bottom and note down the information you need.
Open University Degree Admission Requirements
For admission, authorities have some requirements for the students to admit their institution. You must have this qualification to admit which is given below.
Passed HSC/Equivalent exam
Must be a Bangladeshi Citizen
BOU Degree Admission Important Dates
If you apply you have to bear your mind some important issues. The date is the most important issue. So, you have to apply within this dateline for your admission to the BOU degree program.
| | |
| --- | --- |
| Issues | Dates |
| Application form allocation, collection, submission, & admission date | 31 December 2020 to 27 March 2021 |
| Tutorial Class Start | 2 April 2021 |
| Admission Fees | 3890 TK |
Open Degree Admission 2021 Image
You have to read the full article and also see this image carefully to know everything about B.A(pass), BSS degree admission of Bangladesh Open University.

Apply For Open University Degree Admission Online
Eligible candidates have to apply only online (http://osaps.bou.edu.bd). No application will not be accepted without an online application. To know details read this full article.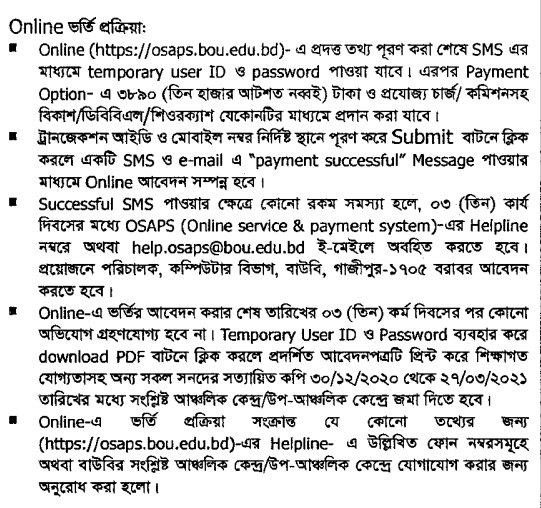 Click here for the online application process.
BOU BA/BSS Program Extended Date 2021 (Latest)
This is a circular of BA/BSS for three years and is published by the BOU on 27/07/21 on their website. By this circular, BOU has ensured the extension of the BA/BSS admission.  Several circulars had published ago of this circular, and it is the updated circular so far. The last date of admission is 31/09/2021.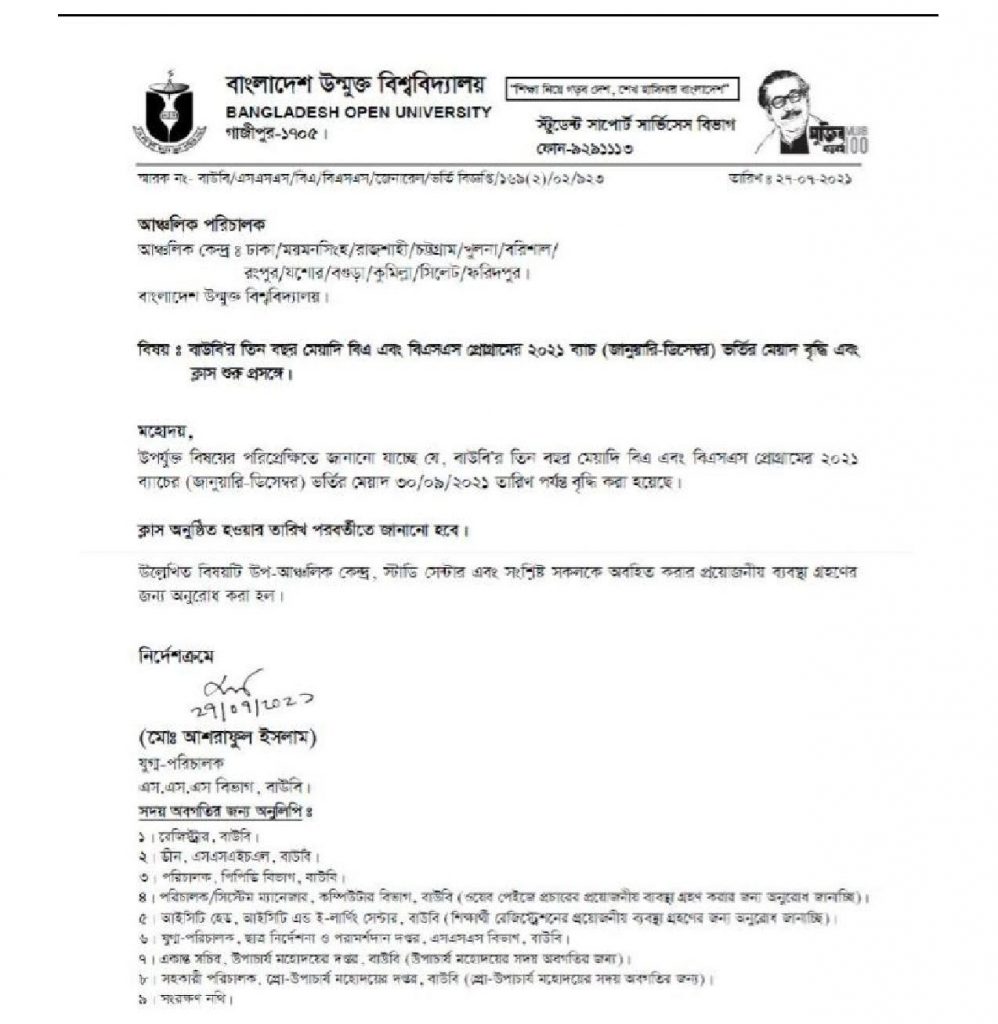 The total admission cost is only 3890 tk including all charges. If you are interested to admit this program, don't miss this chance. We will provide this type of information to help you and let us know by your comment in the comment box what kind of information want to know.